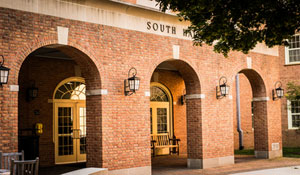 Wake Forest prioritizes engagement inside and outside of the classroom. With an 11:1 student-faculty ratio and national recognition, like the U.S. News #11 ranking for undergraduate teaching, the Faculty Fellows program is an extension of the University's teacher-scholar model.
The Faculty Fellows program increases faculty-student engagement by promoting informal, regular interactions between students and faculty in the residence halls for first-year students. The program fosters exceptional faculty-student engagement and helps to educate the whole person through enriching the intellectual, cultural, and social lives of the first-year students.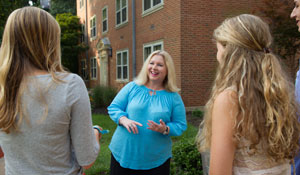 Begun in 2013, the Faculty Fellows program has made a real difference in the lives of first-year students. The goals of the program are to:
Increase faculty-student engagement through informal interactions in the first-year residence halls,
Integrate the life of the mind into students' social experiences, and
Enhance the sense of community at Wake Forest.
The first cohort of Fellows will be completing their initial two-year term in May. About half will be returning for another term, so there are opportunities to bring new Faculty Fellows into the program. Current Fellows would be happy to provide more information on what it means to participate in the program. They are listed under each of the six residence halls in "South Forest" here.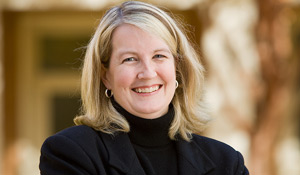 Wake Forest is delighted to announce the appointment as vice provost of Jennifer Collins, who currently serves as associate provost for academic and strategic initiatives.  Collins is also a professor of law, joining the law school faculty in 2003, where her areas of focus are criminal law and family law.  She continues to teach courses on gender and the law (to both law students and undergraduates) and legal professionalism; her acclaimed classroom gifts have earned her both of the School's top teaching awards.
Since taking up the associate-provost role in 2010, Collins has led the successful efforts to establish both the LGBTQ Center and Women's Center at Wake Forest, organized a visionary year-long series of conversations on campus culture, and this past year spearheaded the university's new well-being initiative. Last year, she also chaired a campus-wide group discussing expanded use of the WFU Center in Charlotte.
"Jennifer's remarkable strategic intuition, collaborative gifts, and wide-ranging knowledge of our campus, built on her experience working closely with faculty, students, and staff, makes her an ideal choice as vice provost," said provost Rogan Kersh. "I've been so grateful for her incisive counsel and creative ideas, on everything from online education to our capital campaign, as well as her vision for and profound dedication to enhancing the Wake Forest community."
In addition to her extensive responsibilities in the provost's office and law school, Collins serves as a lower-division adviser in the college and was integral to creating the new Faculty Fellows program. She is a valued contributor to Winston-Salem life as well, serving on the board of the Arts Council.
Before arriving at Wake Forest, Collins was a homicide prosecutor with the U.S. Attorney's Office for the District of Columbia, worked in private practice, and clerked on the U.S. Court of Appeals's Ninth Circuit. Collins earned her JD at Harvard and BA at Yale. She is married to fellow-lawyer Adam Charnes; they have three children, Jake, Lily, and Sam.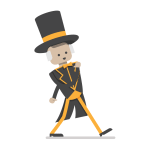 Load More