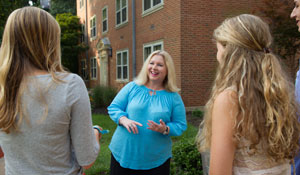 Begun in 2013, the Faculty Fellows program has made a real difference in the lives of first-year students. The goals of the program are to:
Increase faculty-student engagement through informal interactions in the first-year residence halls,
Integrate the life of the mind into students' social experiences, and
Enhance the sense of community at Wake Forest.
The first cohort of Fellows will be completing their initial two-year term in May. About half will be returning for another term, so there are opportunities to bring new Faculty Fellows into the program. Current Fellows would be happy to provide more information on what it means to participate in the program. They are listed under each of the six residence halls in "South Forest" here.
You can read more about Faculty Fellows and the work they are doing in a story that appeared on the Wake Forest University homepage called "Faculty Fellows: Transitioning WFU18 to College Life."
To apply, please email Vice Provost Lynn Sutton a copy of your CV and a 1-2 page memo that describes why you are interested in the program and what ideas you have to achieve its goals. The deadline for applications is Feb. 2.
Please note that the program is designed for faculty who are either tenured or whose contract extends through May 2017.