Main Content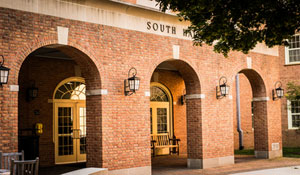 Wake Forest prioritizes engagement inside and outside of the classroom. With an 11:1 student-faculty ratio and national recognition, like the U.S. News #11 ranking for undergraduate teaching, the Faculty Fellows program is an extension of the University's teacher-scholar model.
The Faculty Fellows program increases faculty-student engagement by promoting informal, regular interactions between students and faculty in the residence halls for first-year students. The program fosters exceptional faculty-student engagement and helps to educate the whole person through enriching the intellectual, cultural, and social lives of the first-year students.
Each of the six residence halls for first-year students is assigned a Senior Faculty Fellow, who is appointed by the Provost following a recommendation made by the Faculty Fellows Program Advisory Board, and Associate Faculty Fellows.
Faculty Fellows work closely with first-year residents throughout the academic year, creating programs, hosting dinners and interacting with students in their assigned residence halls.
Babcock
Katy Harriger, Senior Fellow (Politics and International Affairs)
Sam Gladding (Counseling)
Terry Blumenthal (Psychology)
Bostwick
John Llewellyn, Senior Fellow (Communication)
Teresa Sanhueza (Romance Languages)
Erica Still (English)
Collins
Melissa Jenkins, Senior Fellow (English)
Eric Carlson (Physics)
Adam Dovico (Education)
Johnson
Ananda Mitra, Senior Fellow (Communication)
Swati Basu (Physics)
Al Rives (Chemisty)
Luter
Steve Gunkel, Senior Fellow (Sociology)
Ana Wahl (Sociology)
Abigail Perdue (School of Law)
South
Barbara Lentz, Senior Fellow (School of Law)
Alessandra Beasley Von Burg (Communication)
Ron Von Burg (Communication)
John Friedenberg (Theatre)
Categories: Faculty News, University Announcement
Tags: Abigail Perdue, Adam Dovico, Al Rives, Alessandra Beasley Von Burg, Ana Wahl, Ananda Mitra, Barbara Lentz, Chemisty, Communication, Counseling, Education, English, Eric Carlson, Erica Still, Faculty Fellows, John Friedenberg, John Llewellyn, Katy Harriger, Melissa Jenkins, Physics, Political Science, Psychology, Romance Languages, Ron Von Burg, Sam Gladding, School of Law, Sociology, Steve Gunkel, Swati Basu, Teresa Sanhueza, Terry Blumenthal, Theatre
Recent Posts
June 5, 2020

June 4, 2020

June 3, 2020