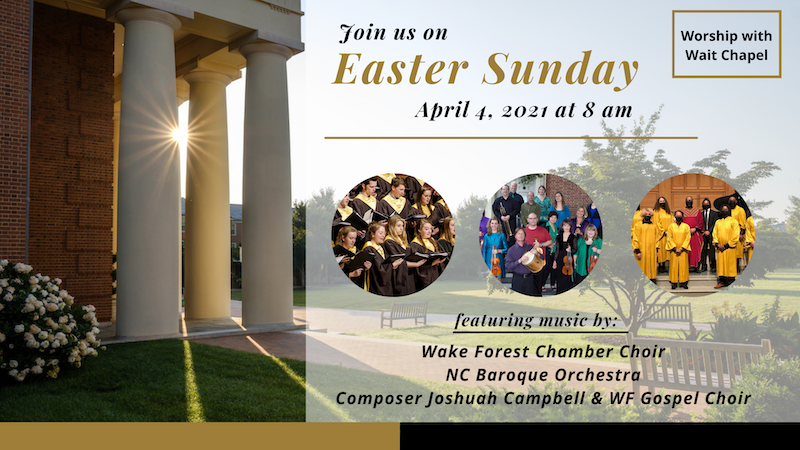 Wait Chapel will host a virtual Easter service on April 4, 2021, at 8 a.m. and invites all to join in reflection and celebration. The service will stream live at divinity.wfu.edu/Easter and on the School of Divinity's Facebook page and YouTube.
"Easter marks a time of renewal and rebirth. The resurrection story calls us to consider both the fragility of life and the resilience proven in overcoming tragedy and pain," said Jonathan Lee Walton, dean of Wake Forest University Divinity School and Wait Chapel. "We have sacrificed and lost so much this year.  Yet the budding of spring and celebration of Easter can both remind us of the promise of renewal and hope that blooms eternal."
The service features music by the University Chamber Choir, conducted by Christopher Gilliam, assistant professor and director of choral activities. The North Carolina Baroque Orchestra will accompany the Chamber Choir in Beethoven's "Hallelujah from Christ on the Mount of Olives" and Bach's "Der Himmel Lacht! Die Erde jubilieret."
The University Gospel Choir, conducted by Golden Globe and Oscar Nominee Joshuah Brian Campbell, will also perform. Campbell is a composer best known for his award-nominated composition "Stand Up" written for the film "Harriet."
Learn more at divinity.wfu.edu/Easter, and view the video invitation here.
Faculty, staff and students are invited to attend a talk with Isabel Wilkerson, author of "Caste: The Origins of our Discontents," on Wednesday, April 14 at 7:30 p.m.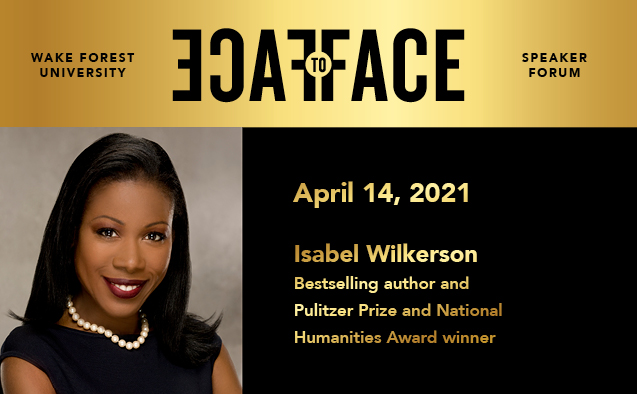 The event will include a talk by Wilkerson followed by a conversation with Dean of Wake Forest School of Divinity Jonathan Lee Walton.
Pre-programming will begin at 7 p.m.
Wilkerson won the Pulitzer Prize for her narrative writing while serving as Chicago Bureau Chief of The New York Times in 1994, making her the first black woman in the history of American journalism to win a Pulitzer Prize and the first African American to win for individual reporting. In 2016, President Barack Obama awarded Wilkerson the National Humanities Medal for "championing the stories of an unsung history."
The event is free to students, faculty and staff at Wake Forest, as well as students and faculty in the Winston-Salem area. To register, visit go.wfu.edu/facetoface. Tickets for the general audience are $10.
Read more on the Wake Forest News website.
The following is a guest post from Johnathan Lee Walton, Dean of the Wake Forest University School of Divinity and Wait Chapel.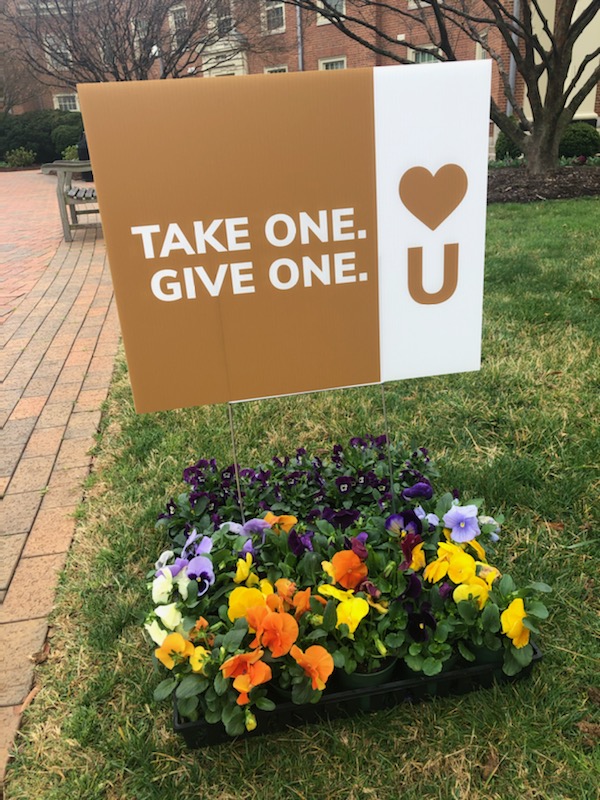 It's hard to believe that today, Thursday, March 25, marks an entire year that we've been in this new normal of wearing masks, limiting in-person interactions, and hoping for an end to COVID restrictions. Couple this with the rise of anti-Asian hate and recent mass shootings, many of us want to witness some semblance of hope and love that we know lives within the human heart.
In partnership with the Office of the Chaplain, we ordered over 1000 plants that will line the steps of Wait Chapel this morning. The entire Wake Forest community is invited to take one and give one. We hope this opportunity to spread love and joy brightens your day and someone else's.
Stop by today, Thursday, March 25, starting at 9:30 am.
One Luv,

Jonathan Lee Walton
Dean of Wake Forest University School of Divinity and Wait Chapel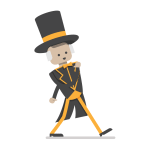 Load More