Main Content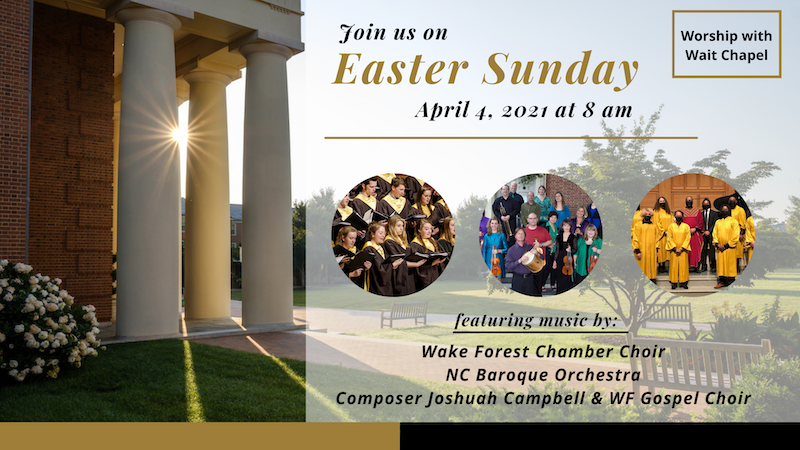 Wait Chapel will host a virtual Easter service on April 4, 2021, at 8 a.m. and invites all to join in reflection and celebration. The service will stream live at divinity.wfu.edu/Easter and on the School of Divinity's Facebook page and YouTube.
"Easter marks a time of renewal and rebirth. The resurrection story calls us to consider both the fragility of life and the resilience proven in overcoming tragedy and pain," said Jonathan Lee Walton, dean of Wake Forest University Divinity School and Wait Chapel. "We have sacrificed and lost so much this year.  Yet the budding of spring and celebration of Easter can both remind us of the promise of renewal and hope that blooms eternal."
The service features music by the University Chamber Choir, conducted by Christopher Gilliam, assistant professor and director of choral activities. The North Carolina Baroque Orchestra will accompany the Chamber Choir in Beethoven's "Hallelujah from Christ on the Mount of Olives" and Bach's "Der Himmel Lacht! Die Erde jubilieret."
The University Gospel Choir, conducted by Golden Globe and Oscar Nominee Joshuah Brian Campbell, will also perform. Campbell is a composer best known for his award-nominated composition "Stand Up" written for the film "Harriet."
Learn more at divinity.wfu.edu/Easter, and view the video invitation here.
Recent Posts
April 12, 2021

April 9, 2021

April 8, 2021