Main Content
Faculty, staff and students are invited to attend a talk with Isabel Wilkerson, author of "Caste: The Origins of our Discontents," on Wednesday, April 14 at 7:30 p.m.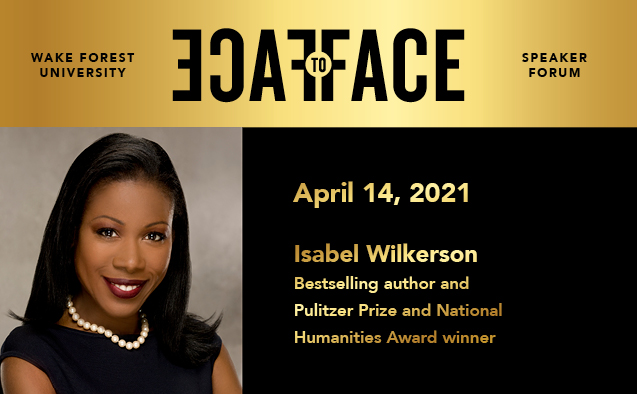 The event will include a talk by Wilkerson followed by a conversation with Dean of Wake Forest School of Divinity Jonathan Lee Walton.
Pre-programming will begin at 7 p.m.
Wilkerson won the Pulitzer Prize for her narrative writing while serving as Chicago Bureau Chief of The New York Times in 1994, making her the first black woman in the history of American journalism to win a Pulitzer Prize and the first African American to win for individual reporting. In 2016, President Barack Obama awarded Wilkerson the National Humanities Medal for "championing the stories of an unsung history."
The event is free to students, faculty and staff at Wake Forest, as well as students and faculty in the Winston-Salem area. To register, visit go.wfu.edu/facetoface. Tickets for the general audience are $10.
Read more on the Wake Forest News website.
Recent Posts
April 12, 2021

April 9, 2021

April 8, 2021