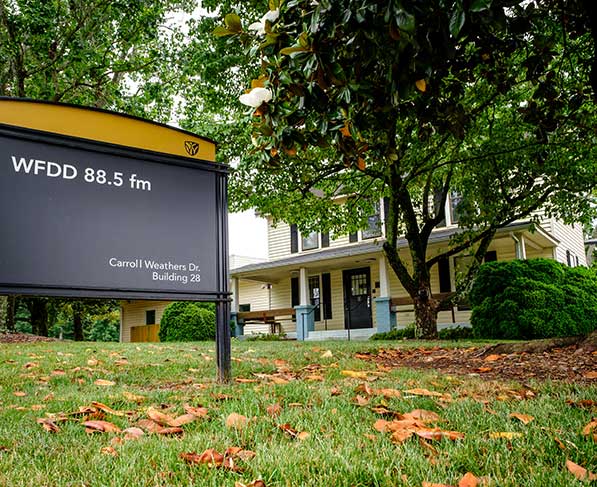 88.5 WFDD, the public radio station licensed to Wake Forest University, will broadcast a series of student-produced stories about youth mental health beginning on Monday, November 29. Dispatches From Within is a series of seven stories covering different issues within the broader topic of youth mental health.
All stories were researched and produced by the students in WFDD's current Radio 101 class at R. J. Reynolds High School in Winston-Salem. The class is part of WFDD's Hive® education program and is taught by Hive® Program Manager Gabriel Maisonnave.
Maisonnave explains how the class zeroed in on this topic: "After a year of quarantining and isolation, we knew that we wanted to do something about youth mental health. I proposed the theme to the class, gave them time and resources to do some research, and they identified the issues that were most relevant to them." The class went on to survey over 1,600 students within Winston-Salem/Forsyth County Schools, and found many students open to sharing their struggles with body image, substance use, suicidal ideation, racial barriers to mental health resources, and gender issues. From there, the students conducted interviews with teens and experts, and wrote, recorded, and edited their stories. The result is powerful student reporting that offers a first-hand look at what young people today are experiencing.
Maisonnave stresses that these stories are universal. "They are not limited to a city or a school or a family. The struggles depicted in the stories are things that teens all across the country are dealing with."
Dispatches From Within will air Mondays and Wednesdays during Morning Edition and All Things Considered, starting November 29th.
Radio 101 provides teens the opportunity to learn new skills related to media and broadcasting. Students pitch, research, write, and record their stories, which are broadcast on 88.5 WFDD. Maisonnave says that the program allows students to explore what it means to be a teenager through stories: "From personal reflections that allow them to have conversations about difficult topics with family and friends, to stories about issues that are important to them, the only requirement is the dedication to find, and tell, the best possible version of any story." Past Radio 101 projects include School, Interrupted, a four-part series that explored school violence from the point of view of students, and which culminated in a Town Hall for Teens live event.
WFDD has long had a youth education program, which began with Radio Camp in 2010. Radio 101 was added in 2011. The program has grown exponentially since those first two years, and now has the umbrella name Hive®, which encompasses all initiatives contained within the program. Maisonnave joined WFDD in 2017 as WFDD's first full-time education program manager.
88.5 WFDD, Public Radio for the Piedmont, is a broadcast service of Wake Forest University and is the only public radio station of its kind located in the Piedmont Triad. It broadcasts news, information, and public affairs programming covering the arts, people, and institutions in the area from its Winston-Salem studios. The state's charter NPR® member, 88.5 WFDD is the longest continuously-broadcasting public radio station in North Carolina. It serves 32 counties in the Piedmont and High Country of North Carolina and southwest Virginia.
Recent Posts
November 30, 2021

November 29, 2021

November 29, 2021