Main Content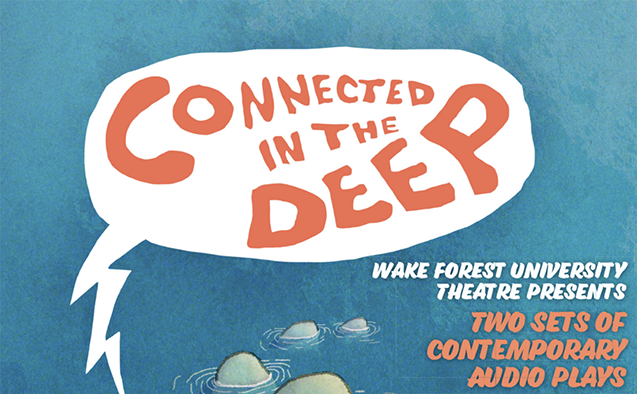 Wake Forest Theatre's first play this season, "Into the Woods" by Stephen Sondheim and James Lapin, was canceled – as so many indoor events have been during the pandemic.
Director and theatre professor Cindy Gendrich wanted to make it happen. She thought about performing the play in front of Wait Chapel, but the length of the play, the logistics of producing it outside and the required social distancing made an outdoor performance complicated.
"The play is about connectedness and being all in it together. Part of what makes it work is sitting shoulder to shoulder in the theatre space with others around us," Gendrich says. 
Though we may not be going into the woods together this fall, Gendrich kept relationships – a major theme of the play – front and center by offering audio productions that can be enjoyed anywhere there is internet.
"Connected in the Deep," is a collection of six plays about love and friendship, presented as radio plays. The plays will be released in two segments this fall.
The first round of plays includes: "The Ballad of 423 and 424" by Nicholas C. Pappas (directed by Gendrich), "Poof!" by Lynn Nottage (directed by professor J.K. Curry), and "Paola and Andrea at the Altar of Words" by José Rivera (directed by Gendrich).
To celebrate the release of this first collection of performances, Wake Forest Theatre is hosting an online listening party tonight, October 9 at 7:30 p.m. Click here to register for the premiere.
Read more and see photos of actors recording the plays (one in her closet!) on the Wake Forest News website.
Recent Posts
October 22, 2020

October 22, 2020

October 21, 2020