Main Content
A guest post from WFDD radio
88.5 WFDD has been honored with two regional Edward R. Murrow Awards in the "Overall Excellence" and "Documentary" categories.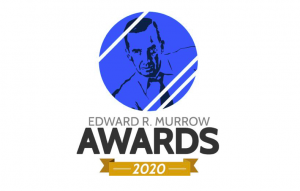 This is the third consecutive year WFDD has been recognized for the Overall Excellence category, which represents a body of work from the news team including an in-depth look on housing in the Triad, environmental reporting on toxins in area drinking water, continuing coverage of the heated tensions as a Confederate statue came down in Winston-Salem and uplifting community stories from across our region.
WFDD's investigative hour-long program On The Margins also won an award in the News Documentary category. The program was a result of a unique collaboration of print and radio journalists, university researchers, and students to add data, depth and investigative muscle to this project. It explores the lasting legacy of discriminatory lending called redlining, the high number of evictions in our region and the toll on those facing it, and how the safety net that is supposed to protect our most vulnerable citizens played a major role in the problem. We also answered listeners' housing questions along the way, bringing the public into the editorial process.
Five Wake Forest journalism students joined the effort through an independent study led by adjunct instructor Mandy Locke. The students built a database that allowed WFDD reporters to quantify the role that the Housing Authority of Winston-Salem played in evictions. The students visited eviction court and helped interview tenants on the verge of losing their homes.
"We are dedicated to covering the important stories and hearing the voices of the people who live here and delving into deep investigations. We are equally committed to stories that spark laughter, curiosity and delight," said News Director Emily McCord. "We are deeply grateful for the honor and for our listeners who made it possible."
The Radio Television Digital News Association has been recognizing outstanding achievements in electronic journalism with the Edward R. Murrow Awards since 1971. Award recipients demonstrate the spirit of excellence that Murrow set as a standard for the profession of broadcast and digital journalism. WFDD competes in a region that includes large market radio stations in North Carolina, South Carolina, West Virginia, Tennessee, and Kentucky. Regional winners automatically advance to the national Edward R. Murrow Awards competition.
Recent Posts
July 2, 2020

July 2, 2020

June 30, 2020