Main Content
See a list of employment milestones reached by staff in August 2013: Read more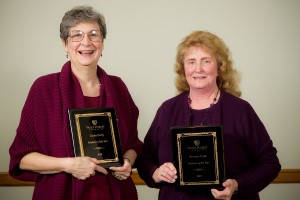 Bernice Cook, a longtime employee in the Financial and Accounting Services Office, and Linda Early with the Z. Smith Reynolds Library, have been named the 2010 Employees of the Year.
Cook, an accounts receivable representative who has worked at Wake Forest for nearly 35 years, was recognized in the non-exempt staff category. Early, coordinator of the acquisitions unit in the library, was recognized in the exempt category. The awards were announced at the annual Staff Recognition Luncheon in the Benson University Center on Oct. 7.
About 225 employees were recognized for service anniversaries ranging from five years to 40 years during the luncheon. Schools of Business Dean Steve Reinemund, the keynote speaker, saluted the staff for making a difference for students and the University.
Nominees for Employees of the Year were:
FLSA Exempt Employees
Donnie Adams, Facilities and Campus Services
Sylvia Bell, Student Health Services
John Borwick, Information Systems
Cathy Chinlund, University Advancement
Randy Davis, University Stores
Linda Early, Z. Smith Reynolds Library
Trevor Hughes, School of Law
Jean Paul Lacy, Department of Communication
Peter B. Nachand, Facilities and Campus Services
Deirdre (Dee) Perry, Office of the Dean
Jolie Tingen, Department of Music
Doug Yorke, Information Systems
FLSA Non-Exempt Employees
Peggy Beckman, Schools of Business
Carol Brehm, Department of Music
Bernice Cook, Financial and Accounting Services
Cynthia Hall, Department of Romance Languages
Linda Mecum, Women's and Gender Studies
Janice Schuyler, Facilities and Campus Services
Lisa Wilkinson, Schools of Business
Employees celebrating five-year anniversaries:
40 Years
Toby Hale, Dean's Office
Carolyn Potts, Student Health Services
35 Years
Doug Bland, Athletics
Keith Wise, Facilities and Campus Services
Ken Zick, Student Life
30 Years
Zella Johnson, Biology
Reid Morgan, Legal Office
Camilla Wilcox, Reynolda Gardens
25 Years
Scott Adair, Z. Smith Reynolds Library
Carol Anderson, School of Law
Karen Bennett, Dean's Office
Sandy Boyles, Mail Services
Julia Bradford, Z. Smith Reynolds Library
James Carlin, Athletics
Linda Early, Z. Smith Reynolds Library
Lynn Ebert, Schools of Business
Mary Gerardy, Student Life
Julie Griffin, Athletics
Kathy Hines, School of Law
Anita Hughes, Provost's Office
Jay Lawson, Music Department
Cherin Poovey, Wake Forest Magazine
Lillian Shelton, Secrest Artist Series
Elide Vargas, Political Science Department
20 Years
Freddy Acuna, Financial and Accounting Services
Grady Allen, Facilities and Campus Services
Brigett Beck, Z. Smith Reynolds Library
Annemarie Buwalda, School of Law
Kevin Cox, Communications and External Relations
Kriss Dinkins, Information Systems
Debbie Hellmann, Financial and Accounting Services
Candide Jones, Wake Forest University Press
Lisa Kaplan, Information Systems
Jean Kimmer, Registrar's Office
Margaret Lankford, School of Law
Regina Lawson, University Police
Carol Lewis, University Theatre
John McCrowell, Facilities and Campus Services
Nancy Metcalf, International Studies
Roxann Moody, Athletics
Peter Nachand, Facilities and Campus Services
Andrea Neal, Graylyn
Nancy Respess, Dean's Office
Natascha Romeo, Student Health Services
Martine Sherrill, Art Department
Lizzie Wallace, University Bookstore
Ray Watson, Graylyn
15 Years
Michael Blankenship, Facilities and Campus Services
Carter Cook, Facilities and Campus Services
Francis Daniels, Facilities and Campus Services
Melissa Doub, Chemistry Department
Todd Edwards, Information Systems
Evelyn Frazier, Facilities and Campus Services
Sherman Funderbunk, Facilities and Campus Services
Donna Gung, President's Office
Joan Habib, Sociology Department
Tanya Johnson, Facilities and Campus Services
Doris Jones, Z. Smith Reynolds Library
Pamela Karr, Counseling Department
Alan Keely, School of Law
Vanessa Little, Graylyn
Sherry Long, Athletics
Pat McElroy, Student Health Services
Randy MacDonald, University Police
Ellen Makaravage, Z. Smith Reynolds Library
Jeff Muday, Biology Department
Art Pittman, Information Systems
Terry Poovey, Undergraduate Admissions
Drew Ray, Information Systems
Janice Schuyler, Facilities and Campus Services
James Shupe, Facilities and Campus Services
Ruth Smith, Financial and Accounting Services
Rusty Smithey, Schools of Business
Rick Tomlinson, Information Systems
Jane Vogler, Military Science
Steven Wicker, Mathematics Department
Thomas Wilborn, Facilities and Campus Services
Artanzia Yates, Information Systems
Ching-Wan Yip, Physics
10 Years
Marciano Alvarado, Facilities and Campus Services
Reina Alvardo, Facilities and Campus Services
Sandra Ashley, Graylyn
Craig Bartholomew, Graylyn
Kevin Bender, Schools of Business
Roger Bonnett, Information Systems
Craig Bullins, University Police
Carroll Burnette, Facilities and Campus Services
LaDonna Crist, University Advancement
Emily Cockerham, University Advancement
Anita Conrad, Legal Office
Carol DiGiantommaso, Graduate School
Cathy Dillingham, Financial and Accounting Services
Vada Lou Earle, University Advancement
Angie Elsea, Information Systems
Christia Fisher, Athletics
Demetrius Gibson, Athletics
Lenny Grant, Information Systems
Michael Greene, School of Law
Tim Grubbs, Information Systems
Cynthia Hall, Romance Languages Department
Sheila Hatfield, Financial and Accounting Services
Phil Hendrix, Purchasing
Angie Hobbs, School of Law
Heather Holmes, Athletics
Vanessa Horan, East Asian Languages and Culture
Karen Hunter, Financial and Accounting Services
Gina Jarrett, School of Law
Virgil Jessup, School of Law
Jimmy Johnson, University Police
Will Lardin, Information Systems
Lauren Largen, Graylyn
Miranda Laws, Information Systems
Dennis Lewis, Mail Services
Dwight Lewis, Athletics
James Lewis, Information Systems
Maynard Lloyd, Law School
Bobby Mabe, Facilities and Campus Services
Paul Marley, Art Department
Susan McFadyen, Financial and Accounting Services
Donna McGalliard, Residence Life and Housing
Chris McLaughlin, Information Systems
Doris McLaughlin, Human Resources
Kristen Morgan, Z. Smith Reynolds Library
Beverly Nesbit, Health and Exercise Science
Joseph Novicki, Information Systems
James Overstreet, Athletics
Stacy Owen, Schools of Business
Irene Picconi, Romance Languages Department
Bonnie Rae, Athletics
Jean Reader, School of Law
Kim Robertson, University Advancement
Sonja Ross, Human Resources
Mike Rutherford, Athletics
Angie Sink, Schools of Business
Laura Statham, Athletics
Mike Terry, Information Systems
Donna Thornton, President's House
Steven Turner, Facilities and Campus Services
Joanne VanSlice, Economics Department
Buffi Vestal, Financial and Accounting Services
Robert Vidrine, Education Department
Tim Wells, Information Systems
Denise Williard, Residence Life and Housing
Michael Woodard, Facilities and Campus Services
Rick Woollen, Facilities and Campus Services
Mitzi Wright, Information Systems
Wayne Yates, Facilities and Campus Services
5 Years
Tania Acuna, American Ethnic Studies
LeShea Agnew, WFDD
Mike Ayuso, Information Systems
Michelle Adkins, Facilities and Campus Services
Sandra Boswell, Athletics
Kyle Bryner, Museum of Anthropology
Mike Buddie, Athletics
Andrew Bush, Graylyn
Teresa Carlton, University Police
Chris Carson, Facilities and Campus Services
Brandi Cleveland, University Advancement
Phyllis Clodfelter, Undergraduate Admissions
Diane Collins, Student Health Services
Winford Cook, Legal Office
Jane Crouse, Mathematics Department
Molly Davis, WFDD
Pattie Delph, Facilities and Campus Services
Eric Dudley, Athletics
Georgina Duque, Facilities and Campus Services
Mary Margaret Evans, University Advancement
Christie Fain, Health and Exercise Science
Kate Friedenberg, Brendle Recital Hall
Lexie Gabard, Health and Exercise Science
Pam Gardner, Facilities and Campus Services
Jill Gaukstern, Health and Exercise Science
Randy Grimes, University Police
Tomma Guastaferro, Human Resources
Wendy Harper, Financial and Accounting Services
Nathan Hatch, President's Office
Steve Hirst, Residence Life and Housing
Beth Hoagland, Provost's Office
Marc Jones, Facilities and Campus Services
Mimi Komos, Human Resources
Joy Kontos, Athletics
Amber Larsen, Athletics
Terri Legrand, Financial Aid
Sheila Lockhart, Religion Department
Michael Manili, Facilities and Campus Services
David McGill, Facilities and Campus Services
Barbara Meredith, Financial and Accounting Services
Kathryn Mobley, WFDD
Dana Muto, Residence Life and Housing
Matt Nelkin, Communications and External Relations
Mandy O'Brien, Information Systems
Amber Parrish, Schools of Business
Nicole Rodriguez Pastor, Residence Life and Housing
Summer Peters, Financial and Accounting Services
Mike Piscetelli, Athletics
Daan Polders, Athletics
Mary Pugel, President's Office
Lawrence Reidenbach, Graylyn
Krista Robeson, Information Systems
Danielle Rhyne, Graylyn
Walter Riggsbee, Graylyn
Rick Rumley, University Police
Catherine Sapp, School of Law
Samuel Seat, Graylyn
Kelly Segovia, Human Resources
Catherine Sheff, President's House
Casey Siegra-Riz, Graylyn
Beverly Simmons, Facilities and Campus Services
Willie Singletary, Facilities and Campus Services
Darlene Starnes, Multicultural Affairs
Leigh Stulack, University Advancement
Lori Sykes, Schools of Business
David Taylor, International Studies
Benjamin Venable, Facilities and Campus Services
Jimmy Vogler, Graylyn
Leroy Walker, Information Systems
Mary Watson, Facilities and Campus Services
Beth Ann Way, Athletics
Allison Wetterhahn, Human Resources
Becky White, University Advancement
Sheila White, Graduate School
Dennis Whittington, Facilities and Campus Services
Lisa Wilkinson, Schools of Business
Chad Willis, Athletics
Dominique Wilson, Graylyn
Judith Wright, Schools of Business
Mark Young, University Police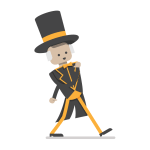 Load More