This is a message emailed to students, faculty and staff on Jan. 10:
Dear Wake Forest community,
Today marks the first day of classes being held at Wake Downtown! We are looking forward to the entire Wake Forest community seeing the space located at 455 Vine Street in downtown Winston-Salem just three miles from the Reynolda Campus. Below you will find important information regarding Wake Downtown; please read this e-mail in its entirety for recently updated information as it relates to this new space.
Transportation
Shuttle service to/from Wake Downtown and WFU is every 15 minutes on weekdays (8:00 am-11:00 pm) and every 30 minutes on weekends (10:00 am-6:00 pm). Travel time is 15 minutes however students should allow 30 minutes; pickup/drop off locations are the Benson University Center and the Vine Street entrance to Wake Downtown. The full schedule can be found on the Parking and Transportation website.
The GPS TransLoc Rider app is available for real time tracking to your smart phone. Download the app at http://translocrider.com/.
Shuttles are ADA compliant with wheelchair lifts. They are also equipped with bicycle racks and WiFi.
Security
Business hours of Wake Downtown are Monday-Friday, 8:00 am-6:00 pm. Wake Forest University faculty, staff and students will have access to Wake Downtown outside of business hours by using their Deacon OneCard.
ALL Wake Forest University faculty, staff and students will be required to visibly display their Deacon OneCard while at Wake Downtown. Badge must be worn above the waist with photo and name clearly visible. Wake Downtown wearable badge holders and sleeves are available on the Wake Downtown shuttles as well as in the Wake Downtown administrative suite.
Visitors will be required to check in at the security desk and will be given a visitor badge to display.
Weapons are strictly prohibited at Wake Downtown.
Phone number for the Innovation Quarter Security Communications Center is (336) 713-1568.
Mail
Address Intercampus envelope as follows:
Faculty/Staff Member Name
Wake Downtown
Address Regular and Express mail as follows:
Faculty/Staff Member Name
Wake Downtown
455 Vine Street
Winston-Salem, NC 27101
Wireless access
WFU faculty, staff and students: choose SSID 'WakeDowntown' and log on using your WFU username and password
Guests: choose the password-free SSID 'IQGuest' and accept the agreement when prompted
Food and vending
Students will be able to use Food Dollars with certain vendors within the Innovation Quarter including Medical Grounds in the Bowman Gray Center for Medical Education (connected to Wake Downtown) and Cafe Brioche in Biotech Place.
Vending options are also available on the lower level of Wake Downtown (all vending options will be installed within the coming weeks).
Stay connected
Follow Wake Downtown on Twitter and Instagram (@WakeDowntown) and like our page on Facebook for important updates and programming information!
To stay up to date, we also recommend that you bookmark wfu.edu
If you have any questions, please email WakeDowntown@nullwfu.edu.
The Wake Downtown Team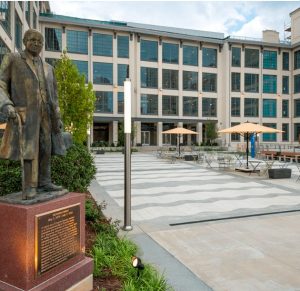 On Tuesday, Wake Forest Baptist Medical Center announced completion of the new medical education building for the Wake Forest School of Medicine. The Bowman Gray Center for Medical Education opened in Wake Forest Innovation Quarter in downtown Winston-Salem after an 18-month renovation of a former Reynolds American tobacco manufacturing plant.
The timing of the opening coincides with Wake Forest School of Medicine introducing one of the most advanced medical school curricula in the country. It allows medical students to prepare for real-life experiences in the most modern of settings: from outpatient clinic to trauma center bay, complete with the new informatics and technologies used in patient care today.
Edward Abraham, Dean of Wake Forest School of Medicine, said the facility was designed with the next generation of physician-leaders in mind.
"We are preparing a collaborative, highly skilled health care workforce that is better prepared to respond to our community's health needs," said Abraham.
President Nathan Hatch said, "Dr. McConnell and Dean Abraham's vision for the future of medical education is complemented by the intersection of tradition and innovation that defines the school's new location. This building, which will literally and figuratively bring medical and liberal arts education together under one roof, greatly enhances opportunities for closer collaboration among our students and deeper engagement within our community."
In 2017, Wake Forest will offer undergraduate programs in biomedical sciences and engineering on the south side of the building, adjacent to the School of Medicine.
Read more about the Bowman Gray Center for Medical Education and take a virtual tour.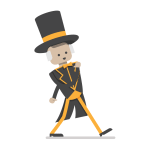 Load More