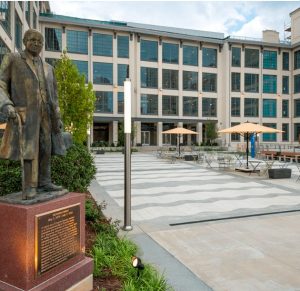 On Tuesday, Wake Forest Baptist Medical Center announced completion of the new medical education building for the Wake Forest School of Medicine. The Bowman Gray Center for Medical Education opened in Wake Forest Innovation Quarter in downtown Winston-Salem after an 18-month renovation of a former Reynolds American tobacco manufacturing plant.
The timing of the opening coincides with Wake Forest School of Medicine introducing one of the most advanced medical school curricula in the country. It allows medical students to prepare for real-life experiences in the most modern of settings: from outpatient clinic to trauma center bay, complete with the new informatics and technologies used in patient care today.
Edward Abraham, Dean of Wake Forest School of Medicine, said the facility was designed with the next generation of physician-leaders in mind.
"We are preparing a collaborative, highly skilled health care workforce that is better prepared to respond to our community's health needs," said Abraham.
President Nathan Hatch said, "Dr. McConnell and Dean Abraham's vision for the future of medical education is complemented by the intersection of tradition and innovation that defines the school's new location. This building, which will literally and figuratively bring medical and liberal arts education together under one roof, greatly enhances opportunities for closer collaboration among our students and deeper engagement within our community."
In 2017, Wake Forest will offer undergraduate programs in biomedical sciences and engineering on the south side of the building, adjacent to the School of Medicine.
Read more about the Bowman Gray Center for Medical Education and take a virtual tour.
Recent Posts
January 18, 2022

January 18, 2022

January 17, 2022