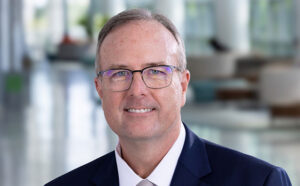 Executive Vice President and Chief Financial Officer Jacqueline A. Travisano has appointed a new senior vice president and made additional leadership changes in Finance and Administration.
Brandon Gilliland has been named senior vice president for finance and administration, effective January 1.
Gilliland returns to Wake Forest after serving for the past six years as vice president and chief financial officer at the University of Miami. He previously served at Wake Forest from 2007 to 2017, rising to the position of vice president for finance.
"Returning to Wake Forest will be deeply rewarding, as I have a strong affection for its history, values and community," Gilliland said. "President Wente's thoughtful approach to engaging the community to develop a collective vision of Wake Forest as a catalyst for good in society is inspiring, and I look forward to joining the journey to achieve the aspirations captured in the Strategic Framework."
In his role as senior vice president, Gilliland will lead the University's finance unit and will support Travisano as the Division of Finance and Administration embarks on an ambitious planning process leading to best-in-class financial reporting and services, while significantly increasing transparency in support of the Wake Forest mission and community.
"I am delighted and honored that Brandon chose to return home to Wake Forest," said Travisano, who also worked with Gilliland at the University of Miami. "While at Miami, he transformed numerous areas including enterprise finance, administrative and student services, while improving financial performance and transparency, operational efficiency and service delivery. He will be an excellent partner in this work at Wake Forest."
Gilliland has been a senior financial leader for more than 25 years with extensive experience in higher education. Earlier in his career, he was controller at the University of North Carolina at Charlotte and held positions at Oklahoma State University at Tulsa and Indian River State College. He also has experience as an auditor at Ernst and Young.
He has been actively engaged in professional organizations at the national, regional, state and conference levels including the National and Southern Associations of College and University Business Officers. In 2023, he was named as a finalist for the South Florida Business Journal's CFO of the year.
Also beginning January 1, Dedee DeLongpré Johnston will transition into a new role as vice president for sustainability and chief of staff to Travisano. DeLongpré Johnston will continue to lead the development and implementation of long-term sustainability goals.
"Sustainability is of critical importance to the University and I am excited Dedee will focus her exceptional leadership strengths on this work," said Travisano. "She excels at collaborating with partners across campus to integrate sustainable practices, policies, and principles into all levels of operations and culture at Wake Forest."
DeLongpré Johnston came to Wake Forest in 2009 to lead the development of University-wide sustainability efforts. In 2020, she added responsibilities for managing institutional talent as vice president for human resources and sustainability. Under her leadership, human resources has strengthened communications, implemented key policies and processes and launched new initiatives to benefit employees – including flexible work and the establishment of a child care center.
"It has been a tremendous honor to serve alongside the very talented leaders in Human Resources. This is an important time, however, for me to return attention to our sustainability work at Wake Forest," DeLongpré Johnston said. "As we continue to elevate our climate mitigation work, adaptation and resilience planning are also top priorities. Our campus is a living laboratory for students and faculty, who are working on the cross-disciplinary solutions that lead to transformation across society."
When DeLongpré Johnston moves to her new role, Lianne Sullivan-Crowley will join Wake Forest to lead Human Resources in an interim capacity through June 30, 2024. Sullivan-Crowley served as chief human resources officer for more than 18 years at Princeton University and previously held human resources positions at Smith College and Harvard.
The University will conduct a national search for a vice president for human resources.
Additional finance and administration personnel updates include:
Bertha (Berthi) Hotham joined the University this fall as associate vice president, business strategy & transformation, reporting directly to the EVP. In this role, Hotham will be tasked with leveraging data, advanced analytics, technology, reporting capabilities, and business process optimization.
Chris Kiwus, as announced in October, will join the University as vice president for facilities, real estate and planning from Virginia Tech. John Wise, who had supervised Facilities and Campus Services on an interim basis, will continue as vice president for hospitality & auxiliary services.
Mur Muchane will continue in his critical role as vice president of information technology and chief information officer as the University advances Project Wakeday along with many other important technology initiatives.
Emily Neese, who has served as vice president for finance, strategy and planning, announced plans to retire at the end of the year.
Recent Posts
December 7, 2023

December 7, 2023

December 7, 2023