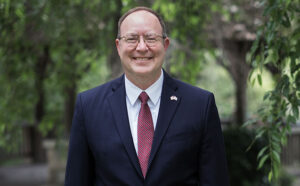 Christopher H. Kiwus has been named vice president for facilities, real estate and planning at Wake Forest University. Kiwus currently serves as vice president for campus planning, infrastructure and facilities at Virginia Tech. 
He will begin his new role on Jan. 1.
"Chris Kiwus is a strategic leader with significant depth of experience, both in higher education and in the U.S. Navy," said Executive Vice President and Chief Financial Officer Jacqueline A. Travisano. "I am confident his exceptional skills and passion for leading high-performing teams to advance infrastructure, real estate, and facilities projects will serve Wake Forest well."
For more than three decades, Kiwus has led facilities planning, public works and infrastructure, sustainability, real estate, construction and other operations for large organizations.
As vice president at Wake Forest, Kiwus will provide overall leadership for a wide range of University services and functions, including the maintenance, upkeep, renewal, and replacement of buildings and infrastructure including athletics facilities; capital planning, building design and construction; environmental health and safety; and campus grounds.  He will oversee a team of more than 350 employees.
"The University and the Facilities and Campus Services department have an outstanding reputation," Kiwus said. "The dynamic senior leadership and the opportunities for doing excellent and innovative work make this an exciting time to arrive at Wake Forest."
Kiwus started at Virginia Tech in 2014 as associate vice president for campus planning, infrastructure, and facilities, then was promoted to vice president in 2020. He also served as the interim until the arrival of the executive vice president and chief operating officer in 2022.
He has overseen the University's national award-winning master plan and earned recognition for his work in support of accessibility, inclusion, environmental stewardship, sustainability and energy management. Capital projects in the design and construction phases during his tenure totaled more than $1 billion. An advocate for transparency and accountability, Kiwus implemented new project management systems and outreach efforts. He currently leads a team of more than 500 university employees and provides strategic direction and supervision around capital planning and construction, university planning, buildings and grounds, renovations, engineering operations, real estate and leasing, and campus utilities, including the Virginia Tech Electric Service. He also has been engaged in the planning and construction of the $300 million Virginia Tech Innovation Campus in Alexandria.
Prior to joining Virginia Tech, Kiwus served as commanding officer of the Naval Facilities Engineering Command Southeast in Jacksonville, Florida, where he was responsible for the management of 15 Navy bases. He oversaw 200 million square feet of facilities, 170,000 acres of land, a $1 billion annual budget and approximately 1,800 employees. Earlier in his 30-year Navy career, Kiwus served as chief engineer of the U.S. Africa Command in Stuttgart, Germany, and as commanding officer of the Naval Facilities Engineering Command Far East in Yokosuka, Japan.
Kiwus received bachelor's degrees from Union College and the State University of New York at Stony Brook, master's degrees from the Georgia Institute of Technology and the U.S. Naval War College, and a Ph.D.in civil and environmental engineering from Rutgers University. He completed the Advanced Executive Program at the Kellogg School of Management, Northwestern University. He is a registered professional engineer in the state of Florida.
Kiwus was appointed following a national search announced in August. Vice President for Hospitality and Auxiliary Services John Wise will continue to hold interim responsibility for Facilities & Campus Services through December.  
Recent Posts
December 7, 2023

December 7, 2023

December 7, 2023