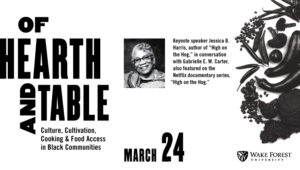 The Center for Research, Engagement and Collaboration in African American Life (RECAAL) will present the symposium, "Of Hearth & Table: Culture, Cultivation & Food Access in Black Communities," on Friday, March 24, from 8:30 a.m. to 4:45 p.m in Farrell Hall (Broyhill Auditorium).
The symposium will feature a series of panels that will facilitate much-needed dialogue about the various ways food connects with Black communities, highlighting the complexity, languages, struggles and ingenious creativity found in African American culinary traditions.
Winston-Salem chef Stephanie Tyson and Durham chef Ricky Moore, who have both been recognized by the James Beard Foundation, will also speak during the event.
A list of all panel discussions, topics and times can be found on the Of Hearth and Table website.
To conclude the symposium, Jessica B. Harris, American culinary historian, college professor and author of the New York Times Bestseller "High on the Hog: A Culinary Journey from Africa to America," will participate in a keynote discussion with culinary artist Gabrielle Eitienne. The event will be held in Porter Byrum Welcome Center at 6 p.m.
Both the events and the keynote discussion are free and open to the public.
Read more on the Wake Forest News website.
Recent Posts
March 25, 2023

March 23, 2023

March 23, 2023