Main Content
COVID-19 update
On Wednesday, March 31, Group 4 eligibility expanded to include all university faculty and staff, and students living in congregate housing both on and off campus.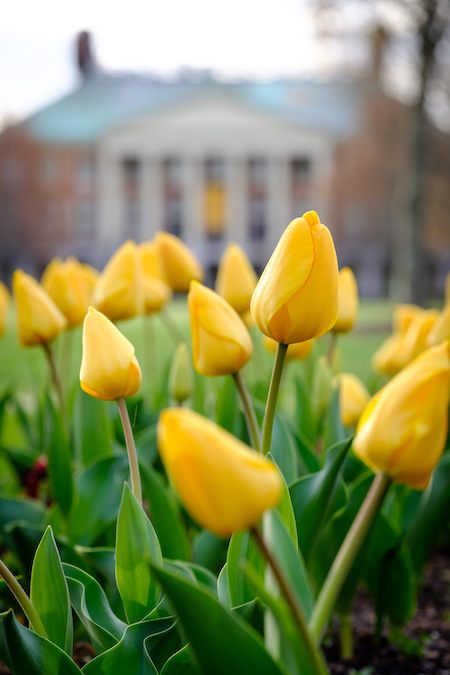 With more than 5,000 faculty, staff and students now reporting they have already been vaccinated, Wednesday's vaccine clinic was the last first- or single-dose clinic to be held on campus for the coming months. Second-dose clinics will continue to be held on campus throughout April for those who received their first dose of the Pfizer or Moderna vaccine at an on-campus clinic in March.
We will continue to identify and communicate upcoming community vaccination opportunities, and the University has plans to coordinate transportation from campus to the mass vaccination clinic at the Winston-Salem Fairgrounds soon. Those who have not yet been vaccinated should make an appointment with a community clinic, medical provider or local pharmacy such as:
Once you have been vaccinated, please indicate that you have received a vaccine using the SneezSafe daily wellness screening survey. Even after being vaccinated, everyone is expected to continue to practice safety measures, including wearing a mask and social distancing.
Additionally, the Wake Forest community received a brief update earlier this week regarding the increase of gathering sizes on campus to align with N.C. Executive Order 204.
April is Asian Heritage Month
Throughout April, faculty and staff are invited to take part in upcoming Asian Heritage Month programs, coordinated by the Intercultural Center. Programs will have a specific focus on how to mitigate the effects of anti-Asian xenophobia, racism and discrimination – of which Wake Forest leaders addressed in this message to the campus community.
Learn more » interculturalcenter.wfu.edu
Staff holiday: April 2
Reminder that Friday, April 2, is a staff holiday; classes are still in session. Departments may offer administrative leave for early dismissal at 3 p.m. or two hours before the end of the regularly-scheduled shift on Thursday, April 1.
View 2021 holidays » hr.wfu.edu
Appreciation pop-ups 
Campus leaders celebrated colleagues working on-site with appreciation pop-up events throughout March. As the university prepares for additional colleagues to return to on-site work, we look forward to sharing a refreshed "Return-to-Campus Toolkit" in the coming weeks with guidance for individuals and leaders.
View photos » facebook.com/wfutalent
Preparing for your financial future
Join an upcoming one-on-one advice session with a TIAA retirement consultant or an upcoming topical workshop throughout April, offered at no charge to all WFU faculty and staff:
"Navigating Towards the Horizon"
ICYMI: James Raper, assistant vice president for health and wellbeing, reflects on a year of living through the pandemic, moving through grief and celebrating what gives us hope.
Read more » inside.wfu.edu
Recent Posts
April 12, 2021

April 9, 2021

April 8, 2021