Main Content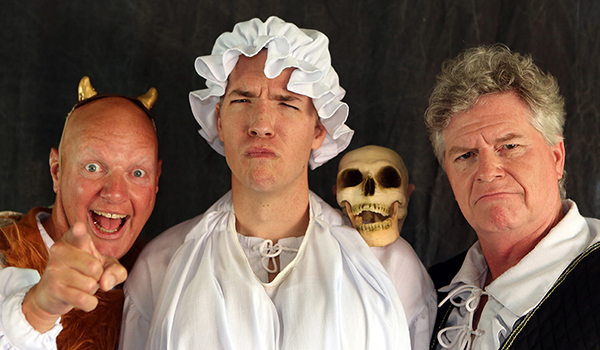 William Shakespeare's Long Lost First Play (abridged) is the literary Holy Grail: an actual manuscript in Shakespeare's own hand showing all his most famous characters and familiar speeches in a brand-new story.
But because it is one hundred hours long and contains multiple unwieldy storylines, the Reduced Shakespeare Company has decided, as a public service, to abridge it down to a brief and palatable ninety minutes and perform the world premiere of this lost masterpiece.
Called "A breathlessly irreverent and pun-filled romp!" by the Washington Post, the production proposes that Shakespeare had written a recently-discovered rough draft of all his plays that presents his most famous characters interacting comically onstage together. Theatrical zaniness? Yea, verily.
Veteran performers Off-Broadway, at the White House, the John F. Kennedy Center, and Lincoln Center, this three-man group of Shakespearean pranksters will present their most recent production on Thursday, September 20, in Brendle Recital Hall at 7:30 p.m.
Wake Forest University and Medical School faculty, staff and retirees receive free admission for themselves and one guest to each Secrest Artists Series performance. WFU students and Medical School students receive free admission for themselves. Simply show your WFU I.D. at the door. Tickets for the community are $5-$18. Group discounts available.
New this year: Those with a WFU I.D. are encouraged to pre-register their attendance through the Secrest Artists Series website. This will help Secrest Artists Series organizers keep track of available tickets for the general public.
Enrich your experience by joining a pre-performance talk at 6:40 pm in M208, adjacent to Brendle Recital Hall. This evening's talk will be led by Susan Harlan, associate professor in the Wake Forest University English Department. Harlan will discuss Shakespearean comedy, as well as comedic adaptations of the plays.
Recent Posts
June 5, 2020

June 4, 2020

June 3, 2020