Main Content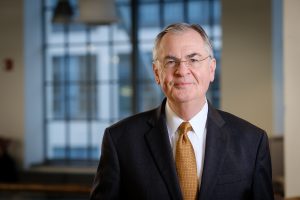 Wake Forest University President Nathan Hatch was elected chair of North Carolina Independent Colleges and Universities (NCICU) during the organization's annual meeting held March 28 and 29 in Pinehurst. Hatch will serve a two-year term leading the executive committee of the board. NCICU is the sector of higher education in North Carolina that represents the 36 private, non-profit institutions in the state.
"We are deeply appreciative that President Hatch has accepted this key role for independent higher education," said NCICU President A. Hope Williams.
Elected to the Executive Committee were Queens University of Charlotte President Pamela Davies, vice chair, Livingstone College President Jimmy Jenkins, secretary, and Meredith College President Jo Allen, treasurer.
The NCICU annual meeting was attended by college and university presidents and trustees, and corporate partners who serve on the Independent College Fund of North Carolina (ICFNC). Governor Roy Cooper was among the speakers, acknowledging the value of and support for private higher education in North Carolina as a complement to the public higher education system. Also on the agenda were State School Superintendent Mark Johnson, Senator David Curtis, Representative Craig Horn and Representative John Fraley.
Recent Posts
August 6, 2020

August 5, 2020

August 5, 2020