This is a guest post from the Office of Wellbeing: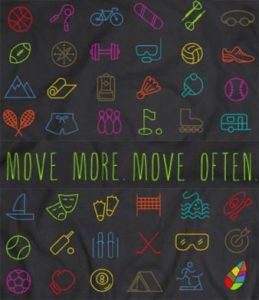 Break in the New Year with the Move More! Move Often! Spring Program. Applications for the Spring Program are being accepted now. The enrollment period runs from January 4 through January 20. The program will officially begin on February 20 and will run through April 9.
The Move More! Move Often! is an 8-week step challenge to encourage individuals to increase their daily physical activity.  Using Fitbit activity trackers, participants can monitor daily steps.  Throughout the challenge, participants can access performance incentives, receive supplemental resources and materials and discounts to help them reach their physical activity goals.
Beginning this Spring, the program will offer two options for participation – our traditional walking groups as well as a progressive walk-to-run program designed to help beginners make the transition from walking to running.  Participants will even have the opportunity to celebrate their progress by participating in the Fit For Business 5k in April.  The Move More! Move Often! program will provide trackers at a discounted rate for program participants.  Tracker options are listed here.
This program is open to current Wake Forest University students, faculty and staff. You can apply here.
Participants will be required to attend a one-hour orientation the week of February 13.  Applications are also open to participants who own their personal Fitbit.  Previous participants are welcome to re-enroll.