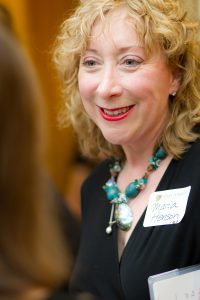 Wake Forest Magazine editor-at-large, journalism lecturer and associate vice president Maria Henson ('82) recently spoke at the Pulitzer Centennial Celebration at Harvard University (video).
Henson is Wake Forest's only Pulitzer Prize winner. She won in 1992 for a series of investigative editorials on domestic violence while at the Lexington Herald-Leader (Ky.). In 2005, she edited a series on Yosemite National Park in The Sacramento Bee (Ca.) that won for editorial writing. In 1993-94, Henson was a Nieman Fellow at Harvard.
In a powerful 11-minute speech before more than 1,000 people, she recalled the impact of "To Have and to Harm," a yearlong series of 30 editorials that made recommendations for improved response and protections for battered women in Kentucky. In 1992, the Kentucky state legislature passed every aspect of domestic violence reform the Lexington Herald-Leader editorial board recommended and the courts changed their practices as well.
"All these years later, at a time of such discouragement and disenchantment over our public life, I look back and remember the power of the press and ordinary citizens to effect change – both of them out of a love of community and a passion for fairness. And all these years later, I have not given up on what is possible," Henson said.
Henson was inducted into the Wake Forest University Writers Hall of Fame this year, in conjunction with Words Awake 2! Read an Inside WFU interview with her commemorating that occasion.