Main Content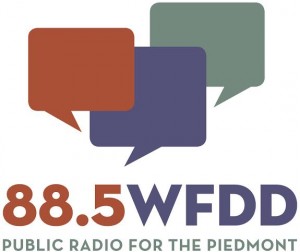 This is a guest post from 88.5 WFDD:
88.5 WFDD, the public radio station licensed to Wake Forest University, has won two 2016 regional Edward R. Murrow Awards from the Radio Television Digital News Association (RTDNA).
88.5 WFDD won Best Hard News Reporting for "Dan River Spill: Long-Term Impact Unknown" by Keri Brown. The story focused on the Dan River one year after a nearby coal ash site dumped more than 39,000 tons of waste into the water. Brown spoke to environmentalists who say the final toll could take years to find out.
The 88.5 WFDD News Team also received the award for Best Newscast:12:04 p.m. July 14, 2015, which included coverage of the "Selma" march in Winston-Salem to protest the state's voting laws, and redistricting Greensboro's local government.
RTDNA has been recognizing outstanding achievements in electronic journalism with the Edward R. Murrow Awards since 1971. It is the world's largest professional organization devoted exclusively to electronic journalism, and represents local and network journalists in broadcasting, cable, and digital media in more than 30 countries. The Edward R. Murrow Awards are given annually, with entries judged by peers in the industry.
"We're grateful for this award recognizing the hard work we've been doing in our news department," said Emily McCord, News Director at 88.5 WFDD. "We have been deepening our commitment to bringing more local news to our listeners and we're delighted our peers have taken notice."
88.5 WFDD competes in a region that includes large-market radio stations in North Carolina, South Carolina, West Virginia, Tennessee, and Kentucky. Regional winners automatically advance to the national competition, the results of which will be announced in June.
88.5 WFDD, Public Radio for the Piedmont, is a broadcast service of Wake Forest University and is the only public radio station of its kind located in the Piedmont Triad. It broadcasts news, information, and public affairs programming covering the arts, people, and institutions in the area from its Winston-Salem studios. The state's charter NPR® member, 88.5 WFDD is the longest continuously-broadcasting public radio station in North Carolina.
Recent Posts
June 3, 2020

June 2, 2020

June 2, 2020