This is a guest post from the organizers of the Artisans' Fair: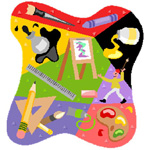 It's time for the 11th Annual WFU Artisans' Fair to be held on Friday, Dec. 4, from 11 a.m. – 4 p.m. in Benson Center, Room 401. More 30 vendors will show and sell their handcrafted products which include jewelry, woodworking, stitchery, pottery, baked goods, stained glass and more.
Looking for a special gift? Then check out these vendors!
Rebecca Benza: handmade jewelry, hand-painted ornaments, hand-dyed scarves
Sam and Michelle Brinkley: Reclaimed pallet and barn wood art, knit winter hats, felt Christmas ornaments
Jessica Burlingame: tea cup crafts and handmade scarves
Alan Cameron: wood cutting boards, trivets, coasters, trays
LaDonna Crist: quilted wall-hangings, monogrammed home-decorative items
Rebecca Fisher: whimsical glass garden flowers
Diana Goldstein: Ornaments (WFU alma mater, book themed, and wine themed ones specifically)
Betty Hauser: salsa, chow chow, candy, cookies
Deirdre Honaker: stained glass
Ashley Horn: homemade soy melts, candles, carpet sprinkles, room sprays, car fresheners, spoon jewelry
Norma-May Isakow: purses, tote bags, potpourri hearts, hot pads
Candide Jones: children's book
Angela King: hand-spun and hand-dyed wool yarn from our sheep at Enno Farm, washable sheep pelts, upcycled wool items and wool Christmas ornaments
Xuan Liu: handmade jewelry, hand-carved stamp
Kathy Martlock: crocheted items, arts & crafts
Donna McGalliard: hand made bird houses, turned wood products, quilt wall samplers, placemats, hotpads, etc.
Annelda McGinn: wreaths and jewelry
Gale Newport: baked goods
Ashley Phipps: handmade Baby Accessories (burp cloths, bibs, rag blankets, and baby blankets)
Bronnie Queen, Book – Are You My Mascot?
Reynolda Gardens/Preston Stockton: Reynolda Gardens 2016 wall calendar, seasonal flowers; hand decorated live wreaths
Kim Robertson: antique and vintage tea cup bird feeders and bird feed ornaments
Paul Ross: cutting boards
Sandy Saulpaugh: Christmas crafts, ornaments, wreaths, painted items, ribbon trees
Sue Sevin, knit items (All proceeds go to Crisis Control Knit the Warmth program)
Ruth Smith: corn and rice bags; tye blankets
Lawrence Smith: tobacco stick stars, bird boxes, food trays, wind chimes
Gloria Stickney: WFU products and gifts
Holly Swenson: necklace pendants with hand painted or illustrated art sealed inside.
Renza Wallace: original designs, hand-made garments in 100 percent baby alpaca-coats, vests, scarfs, caps, bags
Mary Wayne-Thomas,: hand painted silk scarves
Meghan Webb, Mary Beth Lock, John Champlin: nuts and nut-based products
Jane Williams: pottery
Categories: University Announcement
Tags: Alan Cameron, Angela King, Annelda McGinn, Artisans' Fair, Ashley Horn, Ashley Phipps, Betty Hauser, Candide Jones, Deirdre Honaker, Diana Goldstein, Donna McGalliard, Gale Newport, Gloria Stickney, Holly Swenson, Jessica Burlingame, John Champlin, Kathy Martlock, Kelley Dietz, Kim Robertson, LaDonna Crist, Lawrence Smith, Mary Beth Lock, Mary Wayne-Thomas, Meghan Webb, Michelle Binkley, Norma-May Isakow, Paul Ross, Penny Wilson, Preston Stockton, Rebecca Benza, Rebecca Fisher, Renza Wallace, Ruth Smith, Sam Binkley, Sandy Saulpaugh, Sue Sevin, Xuan Liu
Recent Posts
July 29, 2021

July 29, 2021

July 26, 2021