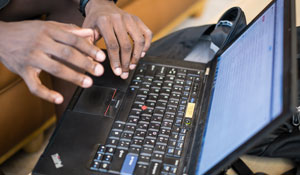 Beginning April 1, the University will begin managing encryption with Microsoft BitLocker Administration and Monitoring (MBAM) on University desktop computers and laptop computers used by faculty and staff.
MBAM protects sensitive computer data in the event that a computer is lost or stolen and improves compliance with FERPA and other security best practices. At this time, MBAM will only manage Microsoft Windows computers. Apple products will not be managed by this system.
You will notice no change on computers already encrypted with BitLocker. If your computer is not yet encrypted, your computer will automatically encrypt as part of this transition and you may see a dialog box titled BitLocker Drive Encryption. Learn more about the use of MBAM on the MBAM Bitlocker Key Recovery Web page.
If you do not create a backup of your data on a regular basis, Information Systems suggest that you do so before April 1. Use our Backup Options webpage to assist you.
If you have questions concerning this message or need assistance, please contact Information Systems at help@nullwfu.edu or 336-758-4357 (HELP).