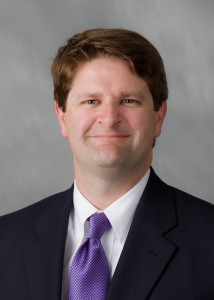 James Raper has been named director of the University Counseling Center (UCC). Raper joined Wake Forest as a staff counselor in 2002 and has most recently served as the Center's interim director.
Wake Forest University is dedicated to the pursuit of excellence in the tradition of liberal learning — the improvement of both mind and character. The UCC's mission is to encourage, support and assist students in this pursuit by providing a broad range of psychological, counseling and educational services to deal with personal, interpersonal, vocational and academic issues.
In addition to the free and confidential counseling provided to all WFU students, the Counseling Center also provides outreach programs and consultation services to students, faculty and staff; classroom teaching; and training for graduate students in counseling.
"Collegiate mental health is a front burner issue in today's world, both around issues of risk reduction as well as with regard to student wellbeing. I'm exceedingly fortunate to take over after Marianne Schubert's three decades of sage leadership," says Raper. "I'm humbled to work with this great team of mental health professionals at the UCC and partners across the University."
Raper sees the following as priorities for the UCC:
Remaining viligant to address ongoing barriers to accessing mental health care, including those perpetuated by the stigmatization of asking for help.
Utilizing the University's "Thrive" program to integrate emotional wellbeing into the daily lives of students.
Continuing the UCC's efforts to train staff, faculty, and students to be able to identify students who are in emotional distress, engage them with care, and know how to refer to the appropriate resources
"James's concern for the wellbeing of every student at Wake Forest is well known in our community. He understands the intense pressures on high-achieving students and works to help them find balance between their academic, social and emotional lives," says Vice President of Campus Life Penny Rue. "I look forward to the ideas he will bring to his role as director to help our community learn to recognize students who struggle, and to reduce the stigma in seeking help. Our students sometimes think they should be able to solve their problems on their own, and we want to make sure they know they don't have to."
Raper holds a PhD in Counselor Education & Supervision from Syracuse University, an MAEd in Counseling from Wake Forest and a BA in religion from Colgate University.
The University launched a national search in September for the director of the University Counseling Center. Dean of Students and Associate Vice President for Campus Life Adam Goldstein led the search.