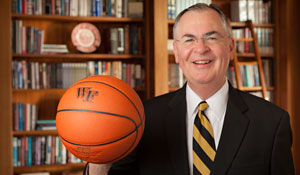 President Nathan Hatch concluded his two-year tenure as chair of the NCAA Division I Board of Directors last week and was honored for guiding a transformative restructuring of the top division's governance system.
The reorganization grants student-athletes voting representation at all levels of decision-making and will ultimately allow schools with the greatest financial resources a greater degree of autonomy from other Division I members in specific policy areas. Changes include allowing the NCAA's top conferences to offer additional aid to athletes and strengthen the value of scholarships.
"It has been my honor to serve as chair during a period that, from most perspectives, has been a challenging and pivotal time for both college athletics and the NCAA," said Hatch. "I am proud of what we have accomplished together as we move into this new era of autonomy."
The Division I Board of Directors is comprised of 18 presidents and chancellors representing different Division I conferences. Under the chair's leadership, the board directs the affairs of the entire division and has final authority on all Division I matters.
"I have been privileged to work with superb colleagues: my fellow college and university presidents, Dr. Mark Emmert and other NCAA staff members, athletic directors from Division I," Hatch said. "I am grateful to them all for their time and thoughtfulness, and look forward to continuing my work with the NCAA in supporting their commitment to the development of our student-athletes."
Hatch has represented the ACC on the NCAA Division I Board of Directors since April 2010 and has served on the Executive Committee since August 2010.
In addition to the NCAA, Hatch has been a longtime active leader in American higher education and community affairs. He currently serves as chair of the National Association of Independent Colleges and Universities (NAICU) and recently served on the board of the American Council on Education. As a board member of the United Way of Forsyth County, he also served as chairman of the 2010 United Way Campaign. Most recently, he was among five Wake Forester's named to the Triad Business Journal's list of the most influential people in the community for giving of his time, talents and resources to make a difference in this region.