Main Content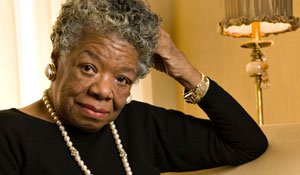 The Department of Women's, Gender and Sexuality Studies and Wake Forest's Pro Humanitate Institute, IPLACe and the Humanities Institute in collaboration with the Southeastern Center for Contemporary Art (SECCA) are organizing an event to preserve and celebrate the legacy of Dr. Maya Angelou.
The celebration will be held on Feb. 17 from 5:30 to 6:30 p.m. at the new Loft Area at SECCA.
As part of Visiting Assistant Professor Angéla Kóczé's course on researching feminism, social justice and public engagement, students are preparing for the event by exploring Angelou's presence, teaching and activism at Wake Forest and beyond. Their collective portfolio, which includes oral histories, stories, photographs and images, will be donated to the Z. Smith Reynolds Library Special Collections.
Serenus Churn Sr., senior pastor of Mount Zion Baptist Church in Winston-Salem, will open the event.
Wake Forest faculty and students as well as members of the Winston-Salem community will read poems. A selection of Angelou's poems will be performed in song by Lynn Book, associate director of the Program for Innovation, Creativity and Entrepreneurship and a professor in the department of theatre and dance.
The event is free and open to the public. A light reception will follow the celebration.
Recent Posts
August 6, 2020

August 5, 2020

August 5, 2020