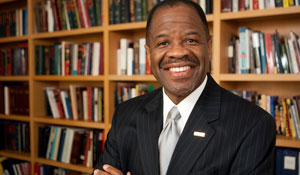 President Nathan Hatch sent the following message to faculty, staff and students:
After seven years of exemplary service to Wake Forest University as Dean of the School of Law, Blake D. Morant will become Dean of George Washington University Law School on Sept. 1, 2014.
Under Dean Morant's leadership, the Wake Forest School of Law has thrived despite the turbulent times legal education and the industry have faced nationally. As Dean since 2007, his tenure has seen a 13-point rise in U.S. News & World Report's rankings to 31st, the law school's highest-ever ranking. That rise also represents the highest jump by any law school ranked in the Top 50 in 2012, 2013 and 2014.
During Dean Morant's tenure, the law school has increased students' opportunities for experiential learning through his "Applied Legal Theory – Law in Action" initiative, including the addition of three new legal clinics and three new externships, two of which are in Washington, D.C. Dean Morant also added a new Master in Studies in Law degree and a third student-run journal, the Journal of Law and Policy.  Enhancing an already strong faculty, Dean Morant has helped attract the best teacher-scholars to become part of the Wake Forest community.  These initiatives and others have significantly increased the law school's national reputation.
Dean Morant has been instrumental in helping to secure more than $18 million in gifts and pledges for student scholarships and financial aid, faculty and departmental support, as well as financial support for the transformation of the Worrell Professional Center following the recent departure of the School of Business.
We are immensely grateful for Dean Morant's leadership, which has included developing a strong leadership team in the School of Law. Executive Associate Dean for Academic Affairs Suzanne Reynolds and Associate Dean for Administrative and Student Services Ann Gibbs, along with Associate Deans Jonathan Cardi, Chris Knott, Alan Palmiter, Richard Schneider, and Ron Wright will continue to work with Dean Morant in leading the School of Law's regular operations. A search advisory committee will soon be named to begin the process of choosing a successor as Dean of the School of Law.