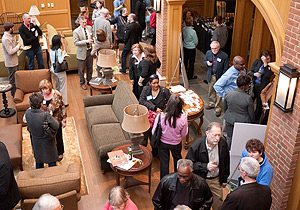 The Provost and the Office of Undergraduate Admissions invite faculty and staff to Thursdays at the Porter B. Byrum Welcome and Admissions Center on March 7.
A wine and cheese reception will run from 4-4:30 p.m., followed by a program from 4:30-5:15 p.m. that will feature Laura Aull, Michaelle Browers and Alessandra Von Burg.
Aull, an assistant professor of English, will discuss her current book project, "Genre-based Rhetorical and Linguistic Approaches to University Writing," which proposes a combined social and language-level framework for analyzing academic discourse. Aull will especially discuss this proposed framework in light of patterns of overstatement and understatement in early university writing.
Browers, an associate professor of politics & international affairs, will discuss her use of the "Reacting to the Past" pedagogy and how role playing and historical simulation can provide a means of exploring classic texts in the history of ideas.
Von Burg, an assistant professor and director of undergraduate studies in communication and interim director of American ethnic studies, will discuss the "Where Are You From?" Project, a series of video interviews about migration and mobility with citizens, residents, and immigrants who are part of Wake Forest and the surrounding community.