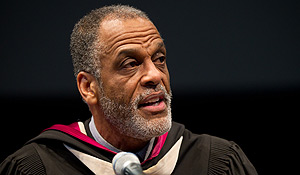 On Nov. 3, Dean Harold Holmes was given a Lifetime Honorary Membership by the Southern Association for College Student Affairs for his contributions to the organization, including serving as president in 1997-'98.
Holmes also has been selected by the Winston-Salem City Council to serve as a member of the Citizens' Organizational Efficiency Review Committee, whose responsibilities will be to conduct a comprehensive review of the city's organizational structure, staffing, and efficiency in response to the ongoing impact of the economic recession on the city budget. The goal is to identify improvements that can be implemented as a part of the fiscal year 2013-'14 budget process.
Holmes is retiring this spring after 25 years of service to Wake Forest students.
Read more about Holmes and his retirement »
Recent Posts
September 25, 2023

September 21, 2023

September 20, 2023