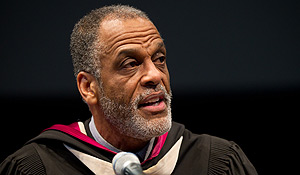 The following message is distributed on behalf of Vice President Ken Zick:
After 25 years of exemplary and devoted service, Dean Harold Holmes will be retiring from his position as Associate Vice President and Dean of Student Services on June 30, 2013. Effective July 1, 2013, his title will be Dean Emeritus. Dean Holmes has served the University and its students in ways that transcend his indelible individual connections with students, faculty, and staff colleagues; his work has consistently encouraged thoughtful reflection and meaningful dialogue about what it means to grow in mind, body, and spirit.
As an exemplary mentor, Dean Holmes has guided countless students toward a greater understanding and appreciation of the challenges and opportunities for learning and growth. In crises, he has offered a caring hand to students, alumni, and parents, as well as steady counsel to me and other colleagues. Through his leadership, judicial systems at the University were streamlined to foster a developmental approach for addressing student conduct. Moreover, he assisted in founding the CARE team that offers assistance to students in crisis.
His reach into our greater community has included service with Leadership Winston-Salem, Leadership Triad, and Leadership North Carolina, as well as serving on the Board of Big Brothers/Big Sisters. Known widely in student affairs circles, the National Association of Student Personnel Administrators has honored him as a "Pillar" of the Student Affairs Profession, and he served as a Regional Vice President of the Association. He has served on accreditation teams, led international visitation teams throughout the world, taught at emerging leaders' conferences, and pioneered service learning exchanges with universities in Mexico and South Africa. He is also a Fulbright Scholar.
All those who encounter Harold Holmes speak highly of his gift for diplomacy, dignity, compassion, and goodwill. His welcoming hand and voice have represented the University in numerous local, national, and international circles with dignity and grace. Perhaps most importantly, he is respected and admired by our student affairs staff for his assiduous efforts to cultivate an inclusive campus environment and broaden the perspective of students to explore lives of meaning and worth.
I am grateful for Harold's extraordinary accomplishments and contributions to Wake Forest over the past quarter-century, and for his devotion to our students and the greater community. He has been a force for calm wisdom and patience in the troubled moments punctuating our campus life, and an inspiration to all whom he has touched. As we honor Harold in various ways this year, please join me in thanking him for his dedication to Wake Forest University and wish him well on his upcoming retirement.
Sincerely,
Kenneth A. Zick
Vice President and Dean, Student Affairs
Recent Posts
October 4, 2022

October 3, 2022

October 3, 2022