The eighth annual Artisans' Fair will be held Tuesday, Dec. 4. The event will run from 11 a.m.-4 p.m. in Benson 401. Leading up to the event, Inside WFU is profiling some of the artists.
Meet Alan Cameron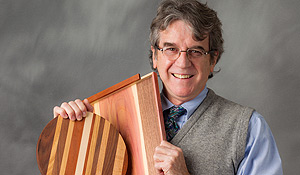 Position: associate director, University Counseling Center
Years at Wake Forest: 24
Previous Artisans' Fairs: seven
What he likes best about the Fair: The opportunity to sell my products, to meet people, and to see fellow vendors
His products: Wood trays, cutting boards, trivets, small tables. They are environmentally positive (using small pieces of wood rather than discarding), food safe, durable and visually appealing.
A little history: Started by using scraps of wood from other projects, making cutting boards similar to ones I had seen at craft shops. I've been woodworking for over 20 years.
Recent Posts
May 6, 2021

May 5, 2021

May 5, 2021