Main Content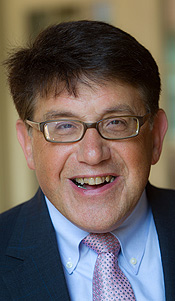 Dear Wake Forest Community,
For more than 30 years, Kenneth A. Zick has served Wake Forest University with unsurpassed dedication and passion. Generations of students have come to know him in his many administrative and academic roles, including decades of service as Vice President and Dean of Student Affairs.
Many have also known him as a professor, academic dean, program director and coach of moot court teams. His enthusiasm for teaching, both in and out of the classroom, is as evident today as it has been throughout his Wake Forest tenure.
After much discussion and thoughtful consideration, I have accepted Ken's decision to step down from his administrative responsibilities in June 2013. After a much-deserved one-year leave of absence, Ken will return to teach and participate in other administrative assignments.
Ken has shared the following thoughts and, with his permission, I thought it appropriate to include them:
At my request President Hatch has graciously allowed me to step down from my administrative responsibilities in June 2013.

I am grateful to have served two great presidents who have led Wake Forest to new heights of excellence in higher education, while sustaining a commitment to our core values of integrity, leadership, and service to others. I have been privileged to serve with colleagues who appreciate the value of our student centered mission, and deeply moved by the work of an exceptional student life staff, people who are unselfishly and tirelessly devoted to the growth of our students in mind, body, and spirit.  Most importantly, I have been honored to have known and worked with outstanding students who have enriched my life in countless ways.

I look forward to easing the transition toward new leadership next year and continuing to teach and serve the University in other ways in the coming years.
I am grateful to Ken for his continued commitment to the University and our students. I look forward to sharing more information with you as we undertake a national search for the next Vice President of Student Affairs.
Sincerely,
Nathan O. Hatch
President
Recent Posts
May 30, 2020

May 29, 2020

May 29, 2020