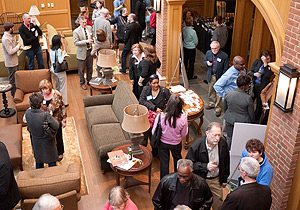 The Provost and the Undergraduate Admissions Office invite faculty and staff to Thursdays at Porter B. Byrum Hall (the Welcome and Admissions Center) on Feb. 9.
A wine and cheese reception will run from 4-4:30 p.m., followed by a program from 4:30-5:15 p.m. that will feature Ellen Kirkman, Dan Johnson and Ananda Mitra.
Kirkman, a professor in mathematics, will discuss mathematical research in invariant theory.
Johnson, senior lecturer in biology, will talk about BioBook, a novel eText platform built on our growing understanding of how we learn naturally, and proven best practices to help students truly master biology.
Mitra, the chair of the Communication Department, will be joined by Kendall Hack (WFU Fellow), Racheal Handel ('12) and Carrie Stokes ('12) to describe the unique service-learning opportunity they have developed in India.