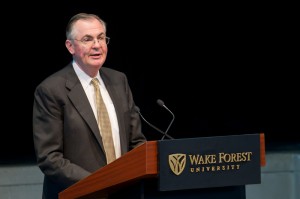 In his State of the University address, President Nathan O. Hatch recognized some of Wake Forest's award-winning teachers and researchers, but celebrated all faculty members who make the special commitment to be part of the University's long commitment to the education of the whole person.
In his remarks Tuesday before faculty, staff and students in Wait Chapel, he also described the ways the University will work to secure other foundational traditions: the culture of opportunity for students who are willing to work hard to be part of Wake Forest's special academic community and the appreciation for the special sense of place that exists on the Wake Forest campus.
Read President Hatch's State of the University address.