At Founders' Day Convocation on Feb. 20, President Nathan O. Hatch offered an apology for how Wake Forest benefitted from the labor and sale of enslaved people in the 19th Century.
"It is important and overdue that, on behalf of Wake Forest University, I unequivocally apologize for participating in and benefitting from the institution of slavery," the president told those gathered in Wait Chapel for convocation.
Following Hatch's remarks, Dean of the School of Divinity Jonathan L. Walton delivered a keynote address focused on both remembering history and taking responsibility for the present.
"We must acknowledge that our history at Wake Forest is both beautiful and terrible.  Nobel and tragic.  Honorable and despicable," Walton said.
Also, during convocation, two extraordinary alumni—Dr. Larry Hopkins and Lou Bissette—were presented the Medallion of Merit, the highest honor given by the University.
Read more:
Wake Forest apologizes for benefitting from enslaved people
Founders' Day program honors Medallion Merit winners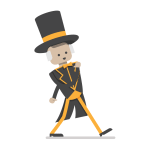 Load More