Main Content
Hannah Scanlon, a junior from Raleigh who explores the spread of infectious diseases with a mathematics professor, has been named a 2020 Barry S. Goldwater Scholar.  She is one of 396 college students from across the U.S. and is one of 12 in North Carolina to receive the award for the 2020-21 academic year.
Her research in the field of mathematical biology focuses on the ways in which mathematical modeling can be used to answer questions in biology, public health and medicine.
Also a Stamps Scholarship recipient, she explores the spread of infectious diseases with mathematics professor John Gemmer.  Though the research was started more than a year ago, she says it has become a more powerful area of mathematics during these times.  "We are adapting our modeling assumptions to more closely reflect the behaviors of COVID-19 and human responses to this pandemic."
Classical models tracking the spread of infectious disease, which are often referenced in the media, assume people do not adjust their behavior depending on the state of the disease, Gemmer explains. "However, we can see in the case of the COVID-19 pandemic, social distancing and stay at home mandates are effective for slowing its spread. Hannah's model allows people to break or pause connections with others depending on the state of the disease. This model is likely to help better inform policymakers on the best course of action to 'flatten the curve.' Given Hannah's dual training in applied mathematics and biology, she is well-positioned to tackle this project. Moreover, she has a strong work ethic and dedication to science that is rare in someone so young."
The entire story is available here.
See a list of faculty milestones for July 2017:
See a list of employees joining and leaving the University in July 2016: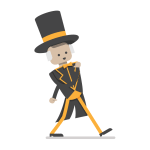 Load More