Joanne O'Brien Beam ('84) recently returned to her alma mater as chief development officer and director of non-degree programs at the Wake Forest University Charlotte Center.
Beam's dual role is important and timely as the University continues to expand the use of its flexible 30,000 square foot facility in Uptown Charlotte. As chief development officer, Beam will be responsible for fundraising in the Charlotte metro area. As director of non-degree programs, she will further develop and oversee certificate programs, workshops, guest lectures and networking opportunities relating to the Executive Education Series "Essentials of Business for Nonprofit Organizations," the "College LAUNCH for Leadership" Program and "For the Love of Learning" program.
An experienced fundraiser, planner, and presenter, Beam most recently served as founding partner and president of Capstone Advancement Partners, where she helped a wide range of non-profit organizations – from higher education institutions to health and human service organizations – meet their development needs. Her experience includes assisting non-profit clients with capital and endowment campaigns, major gift programs, strategic planning, start-up plans and programs, volunteer and staff training, and board development and governance. Beam's fundraising experience began at Wake Forest in 1989, where she served as associate director of advancement.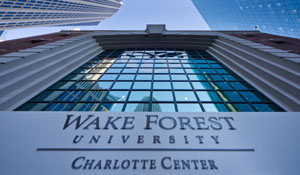 Starting this summer, Wake Forest will offer summer courses at the Wake Forest Charlotte Center. Four faculty members will teach six courses, two in each of the following disciplines: communication, psychology and English.
This new summer initiative will benefit both students and faculty who live in or near the city, said Randall Rogan, dean of academic programming and planning. "It can be prohibitive for faculty to come to Wake to teach if they don't live in Winston-Salem," he added. "We also expect a positive turnout of students since around 300 students initially expressed interest in taking classes in Charlotte."
The decision has already received positive feedback from faculty members. "Students have the opportunity to study in some other place than Winston-Salem," says Marina Krcmar, an associate professor in communication who lives in Charlotte. "It also allows me to teach for a summer to both Wake and non-Wake students close to home." Krcmar will teach two communication courses.
Cathy Seta, professor of psychology; John Petrocelli, associate professor of psychology; and Sharon Raynor, visiting assistant professor in the writing program, will teach the other courses. Classes will run June 2-27.
Outside of the Triad, more Wake Forest alumni live in the Charlotte area than any other geographic region. Rogan said adding undergraduate summer school classes from the College to the business school offerings already available in uptown Charlotte is a natural extension of the University's commitment to students, faculty, staff and alumni in the area.
By Elizabeth Law ('14), Wake Forest News and Communication Intern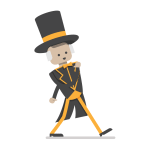 Load More