Main Content
This is a guest post from Alex Abrams, communications coordinator in the Office of the Dean of the College: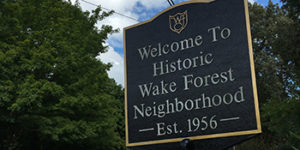 A large historical marker stands at the corner of Faculty Drive and Timberlake Lane, just across the street from where Wake Forest University's Department of Biology is housed inside Winston Hall.
The words "Welcome To Historic Wake Forest Neighborhood – Est. 1956" are etched into the metal historical marker, which has been painted old gold and black like other signs posted around campus.
Just past the marker, one- and two-story houses line the five quiet streets that make up the neighborhood. The houses range in style, with some exteriors made of brick and others covered with wood. Large trees in each yard provide both shade on a hot afternoon and a limb for the occasional tree swing.
Martha Allman, WFU's Dean of Admissions, got a sense of the neighborhood during her four years living on campus as an undergraduate student. Her freshman advisor had a house on Royall Drive and hosted a dinner for students during Orientation.
"I had this very idealized feeling about that neighborhood and how wonderful it would be to live there," Allman said.
In 2001, Allman and her husband moved their two young daughters into a yellow house on Faculty Drive. Their neighbors include a "Who's Who" list of WFU administrators, professors, and staff members who also enjoy living on campus, walking to work, and hosting students in their homes.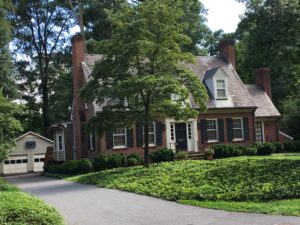 The Historic Wake Forest Neighborhood was started the same year WFU moved its campus to Winston-Salem as a place for faculty who had relocated to live. It has since grown into a tight-knit community where dozens of university employees have raised their children just down the street from Wait Chapel for more than 50 years.
"Over here faculty members are our next-door neighbors, and the fact that one faculty member was a historian, another one was a psychologist, another one was a physicist, that's tremendously important," said Ed Wilson, the longtime English professor and Provost who is affectionately known as Mr. Wake Forest.
"And of course it made our children grow up with the idea that it was important to go to college, and if they could, it was important to do well."
Wilson still lives in the same four-bedroom house that he and his wife, Emily, built on Timberlake Lane in 1964. He raised his three children there. He can still remember the different routes he used to walk every day to reach his favorite spots on campus, including his office in Tribble Hall.
See a list of faculty milestones in July 2016: Read more
See a list of employees joining and leaving the University in July 2015: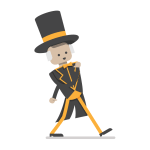 Load More