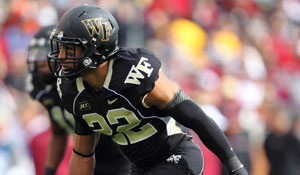 Ryan Janvion, a business enterprise management major from Miami, Fla., is deeply involved at Wake Forest because he wants to make a difference.
Janvion, a member of the Wake Forest football team, is active in Athletes in Action and the Student Athlete Advisory Committee, which often participates in community service events.
"Some of my activities include speaking at different schools around Winston-Salem to encourage students to chase their dreams and rise up to the challenges they will face throughout their journeys," says Janvion. "I have a tremendous amount of respect for the United Way and believe what it does for the community really has an impact on many lives for the better."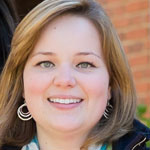 Senior sociology major Victoria Lawton spent her summer working for the Community Intake Center (CIC) for United Way of Forsyth County as part of her participation in Wake Forest's Nonprofit Immersion Program. The CIC serves as the central point for all homeless individuals to get access to funding for housing and is part of a growing national movement to provide a quicker, coordinated method for helping individuals who are homeless.
"The CIC was less than a year old when I began working with them, so it was an incredibly small organization," says Victoria. "Thus, I had the ability to be involved in almost all aspects of the organization."
Through her internship, Victoria came to realize that coordination among organizations is the best way to help the community. Many of these organizations provide great services individually, but when they come together through United Way, they can pool resources and energy to achieve fast and effective change.

Are you a native speaker of English? That's all you need to help with WFU's weekly conversation workshops. Native speaker volunteers meet with international students in small groups and aid their understanding of rapid speech, idiomatic and cultural references, pronunciation and more.
The sessions are a lot of fun! Ten to 20 people are divided into small groups. No training or preparation is needed, and volunteers do not need to attend every session.
Times and Location:
Tuesdays from 4-5 p.m.; Wingate Hall 210
Fridays from 3:30-5 p.m.; Wingate Hall 210
(Thursday sessions also possible)
Interested? Email Andrew Smith, program coordinator for Cross Cultural Engagement and English Language Skills Enhancement at smithac@nullwfu.edu to learn more.