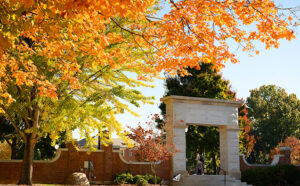 Wake Forest University plans to establish a child care and early education center. During its October 27 meeting, the Board of Trustees approved a resolution to renovate space to house the center.
The goal is to open the doors in early fall 2024.
"Offering access to high-quality child care underscores our commitment to the wellbeing of the Wake Forest community," said Wake Forest President Susan R. Wente. "This has long been an important priority for our faculty and staff, and I am thrilled that we are on a path to opening a child care center within the year." 
The child care and early education center will provide infant through preschool care and will be designed for 5-Star NC quality-rated licensure and NAEYC accreditation. WFU faculty, staff and students will receive priority enrollment. Other enrollment details and a timeline will likely be available to share with the University community early in 2024.
The University has selected the University Corporate Center (UCC) as the site for the center. Construction to renovate the space is expected to begin in January. The University will work to finalize vendor contracts and will announce the selection of a child care and early education service provider in the coming months.
"So many on our campus have worked so hard for so long to make this happen," Wente said. "I am grateful for their perseverance and want to acknowledge all who have helped us reach this milestone moment."
Professor of History Simone Caron has served on the Child Care Advisory Group since 2017 and has been an advocate for a campus solution for the past three decades. "There is just not enough available child care in the city and people are on long waiting lists," said Caron, who applauds current senior leadership for their strong support. "Having a child care center on campus will meet a critical need and help build a support network for faculty and staff."
The new resource for parents will have a significant impact on current faculty and staff who are already here, but it will also affect future employees.
"When we seek out talented faculty and staff to join Wake Forest, one of the first questions they ask is often whether there is access to quality child care," said Provost Michele Gillespie. "Being able to say 'yes' to that question will be a game changer for both the recruitment and retention of excellent employees. Balancing work and family is challenging, and we want everyone in our community to thrive personally and professionally."
The University has evaluated child care needs and solutions for many years, but plans were previously derailed by economic and site challenges and, most recently, the pandemic.
"Investing in high-quality child care and early education will make Wake Forest a better place for all," said Wake Forest Executive Vice President and Chief Financial Officer Jacqueline A. Travisano. "We are excited about the next steps and have laid out an ambitious timeline to complete the project."
Recent Posts
December 7, 2023

December 7, 2023

December 7, 2023