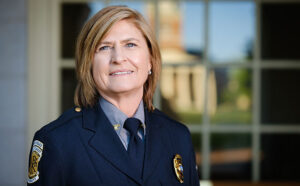 A message from Wake Forest University's Chief of Police Regina Lawson
As Wake Forest begins the academic year, it is a good time to remind our community about University resources related to safety and security:
Wake Alert
Wake Alert is the University's mass notification system for communicating about situations affecting safety and security. In the event of an emergency or when a safety response is needed, an alert may be sent by any of the following methods: text, email, phone message (mobile), Twitter (@WakeAlert), Facebook (Wake Alert), and WakeSafe app notifications.

Alerts may also be posted as an emergency banner at the top of University website pages or shared on all computers connected to WFU internet and on University television screens campuswide. The University may also activate outdoor and indoor audio alert systems.
To ensure you receive emergency alerts:
WFU emergency communication systems are tested in the fall and spring of each year. 
Wake Safe
The

WakeSafe mobile app

is free and makes it easy to engage with the

Wake Forest University Police Department

. With WakeSafe, you can use your cell phone as a personal security device that allows direct access to police, 911 emergency services, emergency location sharing, social escape, and a peer-to-peer Friend Walk tool. Wake Alert emergency and safety messages are also shared on WakeSafe. Be sure to activate notifications.
Emergency call boxes
The University has added and upgraded

Blue Light Emergency call boxes

(DEACStations) throughout campus. The DEACStations have 360-degree camera views. When the emergency button is pressed, University police are immediately alerted. A map with locations for Blue Light call boxes can be found

here

.
Campus addressing
Addresses have been added to nearly every area of campus

, including parking lots, athletic fields, storage areas, and Hearn and Manchester Plazas. The address can be used with GPS navigation apps and will help emergency responders pinpoint precisely where to go on campus in the event of a 911 call. Reynolda Campus

maps

have been updated to include the new addresses.
University Police
The University Police Department can be reached at 336-758-5911. If using a campus phone, call 911. In non-emergencies, University Police can be reached at 336-758-5591 or when using a campus phone at 311.

Anonymous tips can be made to University Police through the

WakeSafe

app or the

Silent Witness form

on the University Police website.

The University Police Department, located at 5911 Forest Bridge Way (Alumni Hall ), is staffed 24 hours a day, seven days a week. If the building's exterior door leading to the department's offices is locked, a phone at the entrance can be used to gain entry.

Get to know the

Resource Officers

assigned to your residence hall or building.

Take

Rape Aggression Defense

(RAD) Class, a one-credit academic class taught by certified instructors.
University Shuttles
Wake Forest Transportation and Parking Services offers a network of free shuttles to the University community, covering locations such as off-campus apartments, Wake Downtown and shopping areas. From 7 p.m. until midnight, the OnCall demand shuttle is available daily during the academic year. More information is available on the

Ride the Wake

website.

The

Passio Go

app can be used to catch a ride, track University shuttles through GPS technology, and keep you updated on service interruptions or route changes. It is available on the Apple Store and Google Play.
Other Support Services
In addition to the University Police Department and the department's Victim Support Program, support services include the:
Wake Forest is committed to a comprehensive approach to providing a safe and inclusive community where students, faculty, staff and visitors may experience a sense of security and belonging. The University Police are here to help, and we welcome you to visit our office at 5911 Forest Bridge Way (Alumni Hall). You may also email questions or concerns to dispatch@wfu.edu.
Recent Posts
September 25, 2023

September 21, 2023

September 20, 2023