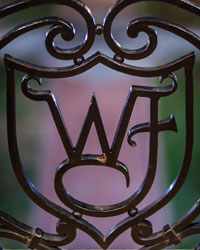 Wake Forest will begin an ambitious renovation project the week of May 22 to renew and refresh academic and classroom spaces on the Reynolda campus. President Susan R. Wente and Provost Michele Gillespie have approved a $1 million project to upgrade learning environments in six academic buildings this summer, in addition to the work in classrooms and labs previously approved through the annual capital planning request process.
"Academic space renewal is one of my highest priorities," Wente said. "Well-designed and properly equipped academic spaces are essential for excellence in teaching and learning. Wake Forest's classrooms, labs and studios are catalysts for discovery, collaboration, creativity, innovation, and mentorship."
Partnering with the architecture and design firm, Ayers Saint Gross, the University is engaged in work to create a holistic, well-sequenced, and long-term campus space plan to renew the Reynolda campus academic core. Wente shared in February that it is critical that "our strategy and vision drive our space decisions, and not the other way around." Still, opportunities for immediate impact became clear in some learning spaces: at least 17 total classrooms and teaching labs will receive a variety of upgrades, including new writing surfaces, lighting, furniture, painting, flooring, audio-visual (A/V), and/or window treatments.
"Investment in learning spaces was a frequent theme in our strategic framework conversations. As we envision Wake Forest's third century, it's fitting that we are embarking on the most ambitious summer academic space renewal project we've undertaken at Wake Forest." – President Susan R. Wente
Gillespie shared her excitement about this project. "In a normal summer, we could only renovate two or three learning spaces," she said. "By renewing at least 17 academic spaces this summer, this project will positively impact hundreds of faculty and students and make a difference in many departments and academic buildings across the College, including Anthropology, Art, Biology, Education, English, Music, Philosophy, Physics, Psychology, and Theatre and Dance." 
In the past, most classroom renovations were requested on a case-by-case basis as part of annual capital planning requests and the budget process. This year, University leadership saw an opportunity for a more strategic approach to academic space renewal. Starting with some of the oldest buildings on campus, most of which are used by the College, a team with representatives from Facilities and Campus Services and Information Systems conducted a walkthrough of more than 145 classrooms to prioritize where enhancements were most needed.  
To shorten the list of spaces where significant impact could be made over the summer period, the collaborative team leaned on shared expertise and weighed what could realistically be accomplished without disrupting summer sessions; where significant summer renovations of academic space were already planned; and those classrooms and labs that College departments had highlighted as spaces needing renovation. 
The following rooms are part of the summer project:
Carswell Hall:

019

Greene Hall:

106

Olin Laboratory:

104

Scales Fine Arts Center:

102; 208; M306; M308 

Tribble Hall:

A11; A204; A307 

Winston Hall:

020; 124; 212; 221; 233; 234; 244 
The groundwork for this project was laid by the Learning Spaces Committee (LSC), which is a cross-functional team with faculty, student, and staff representatives from the Center for the Advancement of Teaching; the Center for Learning, Access, and Student Success; Facilities and Campus Services; Information Systems; and academics. Since 2018, the LSC has been using its shared expertise and evidence-based design standards to collaborate with departments and make recommendations on how to modernize Wake Forest's academic spaces.
This ambitious summer project required close collaboration between Information Systems, Facilities and Campus Services, and the College. "You can't really talk about learning spaces without talking about technology," said Mur Muchane, Vice President for Information Technology and Chief Information Officer. "Research demonstrates a clear relationship between the design of learning spaces and student success and learning. At Wake Forest University, we aspire to excellence in teaching, discovery and faculty-student engagement. To meet that aspiration, we aim to provide faculty and students with more flexible, technologically up-to-date classrooms, and other collaborative learning spaces that meet pedagogical goals." 
The new A/V equipment was selected for simplicity, stability, and user experience. Systems are brighter and easier to see, and their placement in the classrooms offers improved sight lines and wireless accessibility. John Shenette, Vice President of Facilities and Campus Services, shared how these upgrades will improve the physical learning spaces: "Most of the new A/V equipment will be wall-mounted, smaller units, eliminating the need for bulky media racks and creating more usable floor space for collaborative and evidence-based teaching and learning." 
This initial work is the first phase in what is anticipated to be regular renewals to academic spaces on campus. Gillespie reflected on the importance of renewing academic spaces: "Research demonstrates space is one tool that impacts excellent and innovative teaching and learning. This project will have a tangible effect on how we provide an exceptional educational experience for our students, as well as how we support our faculty. It will also ensure we continue to invest in our academic spaces while our longer term space projects in the academic core are planned and sequenced."
Work is expected to conclude by the start of fall classes in August. Faculty and students participating in Summer Session should expect some construction noise but minimal disruption, as work will take place behind closed doors.
Recent Posts
December 7, 2023

December 7, 2023

December 7, 2023