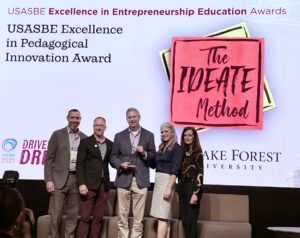 Wake Forest's Entrepreneurship Center startups have been recognized on Shark Tank and featured on Oprah's Favorite Things list. Now a Wake Forest teaching method that helps students discover their best startup ideas, called IDEATE, has earned a national innovation award.
The United States Association for Small Business and Entrepreneurship (USASBE) awarded the 2023 Excellence in Pedagogical Innovation Award to Wake Forest's Center for Entrepreneurship – earning the win in competition with Wharton School of Business, Washington University and Georgetown University.
The IDEATE method was developed by Dan Cohen, a professor of practice and the executive director of Wake Forest's Center for Entrepreneurship, and Greg Pool, who directs Wake Forest's Startup Lab.
"This recognition from USASBE validates something that we already knew from all the startup successes we have had at Wake Forest: the IDEATE method works and works well," said Cohen.
Read more at Wake Forest News.
Recent Posts
December 7, 2023

December 7, 2023

December 7, 2023