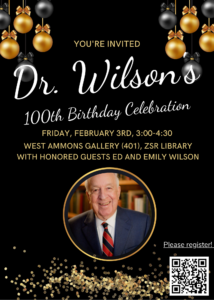 Z. Smith Reynolds Library is hosting an opportunity for the community to wish Dr. Ed Wilson a happy 100th birthday.
Edwin Graves Wilson ('43), known and loved widely by the Wake Forest community, was born on Feb. 1, 1923. His more than 75-year association with Wake Forest began when he enrolled as a student at age 16. In addition to teaching English, he accepted numerous administrative positions. In 1992, a newly constructed wing of ZSR Library was named in his honor – commemorating his love of his students, the importance of learning and his long-standing commitment to this community.
Faculty, staff and students are welcome to stop by Ammons Gallery (ZSR Library/4th Floor, 401) on Friday, Feb. 3 from 3 to 4:30 p.m. to offer socially-distanced well-wishes. Guests visiting Dr. Wilson in person are asked to register in advance.
Faculty, staff and students are invited to email birthday wishes for Dr. Wilson using archives@wfu.edu. Cards or notes may be dropped off in ZSR Room 625 on Feb. 3 from 10 a.m. to 1 p.m. or any time during the week of Feb. 6 from 10 a.m. to 4 p.m. 
Name tags will be available for everyone who has pre-registered, and guests who have not registered will be asked to fill one out at the library.
Masks are required and will be available for those who need one. Dr. Wilson will be seated at a table with a clear divider and guests can sit across from him to talk. In order to give everyone an opportunity to chat, guests are asked to keep conversations brief.
Cake and refreshments will be on the east side of the Ammons Gallery. Dr. Wilson and his wife, Emily, will be on the west side of the Ammons Gallery. A guest book will be available to sign and leave a message.
Questions? Email archives@wfu.edu.
Recent Posts
March 25, 2023

March 23, 2023

March 23, 2023