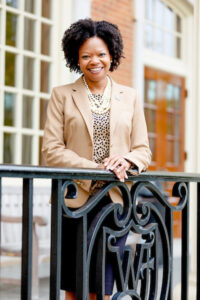 A message from Vice President of Student Life Shea Kidd Brown
We are excited to announce the launch of the We are Wake initiative, a campaign designed to build capacity as it relates to student care and wellbeing on campus. Additionally, it promotes behaviors associated with wellbeing, increased engagement in help-seeking and other initiatives that elevate the consciousness of care on campus.
We are Wake will be made possible thanks to a generous gift and will address subjects such as understanding what distress looks like in our community, knowing when and where to go for help, and learning effective responses and referral options when mental health concerns arise.
During the fall 2022 semester, a small working group was formed to consider how Wake Forest could strengthen approaches to caring for students before they are in distress and provide appropriate support when they experience crises. This group sought to identify mental health resources through more collaboration across the campus. While this work continues through the spring semester, we are excited to announce the Care 101 training focused on recognizing signs/symptoms/issues of distress, skill development related to response, awareness of campus support resources, and the identification and promotion of positive behaviors.
Please join us for the We are Wake Kick-off and Resource Fair on Tue., Jan. 24 from 2-5 p.m. in the Green Room, Reynolda Hall. All students, faculty, and staff are encouraged to attend this drop-in event. We are excited about the ways this new initiative will assist us in caring for students and cultivating a campus where all students matter, belong, and thrive.
Recent Posts
January 25, 2023

January 25, 2023

January 24, 2023