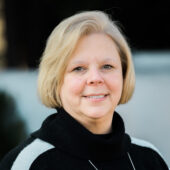 Following a national search, Cathy Higginbotham has been appointed executive director of Student Health Service within the Division of Campus Life, effective Feb. 27. Higginbotham comes to Wake Forest from N.C. State, where she serves as Director of Nursing.
Higginbotham earned her bachelor's degree in nursing from the University of Charleston (W.Va.), her master's in healthcare administration from Ohio University, and her healthcare informatics master's certificate from East Carolina. She has spent her career of 17 years in nursing in the hospital setting, where she started as a staff nurse in Cardiac Telemetry and moved to ICU. She then moved to management and administration as Director of Nursing Resources for nine years in Charleston, W.Va.
Higginbotham's professional passion is quality care and compassionate leadership, with a strong focus on teamwork. Some of her notable accomplishments include:
leading campus health at N.C. State through two accreditations,
lowering clinic throughput from two hours to 35 minutes,
boosting clinical results and output by promoting staff training and skill development,
ensuring patient safety by implementing a just culture environment,
establishing a robust COVID mass immunization clinic and testing across the campus,
and optimizing EHR clinical workflows as well as increasing software and contracts by steering the informatics team.
"I am humbled and excited by the opportunity to lead the excellent department of student health at Wake Forest," Higginbotham said. "I am looking forward to working collaboratively towards a holistic approach to quality care and wellbeing that will support students' academic and personal success."
Her proven track record of public health leadership at N.C. State positions her well to make an immediate impact at Wake Forest: "I am beyond excited to see what Cathy's transformative leadership will mean for the future of campus health at Wake Forest," said Warrenetta Mann, the Assistant Vice President for Health and Wellbeing.
The search committee was chaired by Michael Shuman, the director of the Center for Learning, Access, and Student Success, and included university campus partners, faculty, and students.
Recent Posts
January 25, 2023

January 25, 2023

January 24, 2023