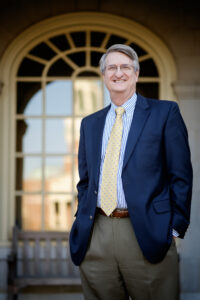 During a Wake Forest career that has spanned more than four decades, Senior Vice President and General Counsel J. Reid Morgan has worked with four presidents — James Ralph Scales, Thomas K. Hearn Jr., Nathan O. Hatch and the University's current president, Susan R. Wente.
Morgan announced today his plans to retire on June 30, 2023. He will continue to serve as Secretary of the Board of Trustees through the 2023-2024 academic year.
"Reid Morgan is an essential figure in Wake Forest's story," Wente said. "I am so grateful for the wise counsel he has provided to me and my predecessors. Reid has influenced key decisions that have shaped the life of the University for the last four decades. He is well known for his legal expertise, his eloquence and his commitment to Pro Humanitate." 
Morgan, who received a bachelor's and a law degree at Wake Forest, has held various staff positions since joining Wake Forest in 1979. He was instrumental in developing the University's legal department and, for more than 40 years, he has provided legal counsel across the spectrum of university activities and initiatives, including compliance with federal, state and local regulations and policies. 
In 2000, he was named general counsel with responsibility for the legal offices on the Reynolda Campus and at the Medical School. He became vice president in 2002, as well as secretary of the Wake Forest Board of Trustees and secretary of Wake Forest Health Sciences. He was named senior vice president in 2011.
Morgan said: "As an alumnus of Wake Forest, my love for the institution and my duty and loyalty to it as a lawyer have been happily joined on a daily basis. I have the deepest gratitude to have been given the opportunity to serve Wake Forest and to know the truly remarkable people at the University across the years.
"I've been especially proud that not only does Wake Forest profess the motto 'Pro Humanitate,' but the University has sought to understand – and to live – a fuller and fuller meaning of that motto. We are fortunate to have this core ideal, adopted universally within the Wake Forest family, which calls us continually to be a better community and institution."
Morgan was part of the administration as the University gained recognition as a national institution, and he facilitated many strategic initiatives that supported Wake Forest's growth, including the affiliation with Reynolda House and the development of Innovation Quarter and Wake Downtown. More recently, he helped create joint governance and a single administration for the medical center in 2010 and helped lead the legal process for joining Wake Forest Medical Center with Atrium Health and then the subsequent combination with Advocate Aurora Health, announced two weeks ago.
When Morgan first joined Wake Forest, he was named foundations officer and also worked part-time with Leon Corbett, the university's head counsel, and with the president, James Ralph Scales. In 1984, he served as the coordinator for the University's Sesquicentennial, a year-long celebration of Wake Forest's 150th anniversary that culminated with "Visions and Dreams," a sound-and-light show on Hearn Plaza dramatizing Wake Forest's history. He became a full-time staff member in the newly established legal department in 1984. 
President Wente will launch a national search to fill the vice president and general counsel position in partnership with the legal executive search firm Major, Lindsey & Africa. More information about the process and timeline will be forthcoming.
Recent Posts
September 25, 2023

September 21, 2023

September 20, 2023