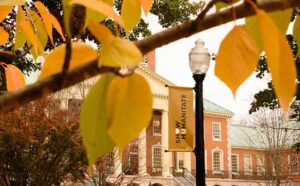 In September 2022, President Wente charged the University Space Planning Group (USPG)  with creating centralized processes and policies for effective enterprise-level space governance. Under the joint leadership of co-chairs Provost Michele Gillespie and Executive Vice President Hof Milam, the USPG began space planning efforts in support of the University's academic mission through effective stewardship of its physical assets. 
The USPG's efforts to date have focused in several foundational areas: 
Reviewing and acting upon recommendations emerging from SmithGroup's space utilization study:

The 2021-22 Space Utilization Study, conducted by SmithGroup, provided the USPG with up-to-date information on space use as well as challenges and opportunities on campus. Students, faculty, and staff perceptions regarding space needs were also included in this study. You can read a summary of the study

here

. The USPG is planning forums for interested faculty and staff in January to hear more about the findings. More information about these forums will be shared in Inside Wake Forest.



Establishing procedures for coordinated space planning efforts: The USPG has begun to create the infrastructure necessary for more effective use of space:
• The USPG established guiding principles to support and direct its decision-making efforts.
• The USPG is evaluating the needs and opportunities that could be addressed by establishing a space management program in Facilities and Campus Services. Such a program has the potential to centralize processes for space requests, maintain a campus space database to aid in USPG decision-making, and support future campus master planning efforts.
• The USPG is also in the process of identifying and charging key Task Forces (time-bound, project-oriented group efforts) and Standing Committees (focused on broader, ongoing issues) to further enable its work.
Evaluating potential University uses for commercial real estate on the campus periphery:

Since the COVID-19 pandemic, the context in which the University makes its space and real estate decisions has changed. Inflation and supply chain issues have challenged timetables for renovation and renewal projects; space needs have fluctuated as offices and departments pilot flexible and hybrid work practices; and the commercial real estate market in Winston-Salem has shifted dramatically.





The USPG has received the results of a spring 2022 study of University real estate holdings, which included an analysis of the commercial real estate dynamics in Winston-Salem that affect the ability to rent or sell individual holdings. One finding from this analysis is that the University is well-positioned to leverage its more than 400,000 square feet of owned and vacant commercial space, and to repurpose or convert it for University use.





The combination of these factors has influenced the University's decision not to pursue pre-pandemic plans for a building project known as the "College Academic Commons." The USPG will focus intensively in the coming semester on planning efforts to reimagine how our currently available space can serve administrative needs, and thus create space within the academic core of campus to support our academic mission. 
The USPG will continue to provide timely updates to the campus community on its progress, decisions, and outcomes via Inside WFU. More information about the USPG can be found on its website. 
Recent Posts
November 22, 2022

November 18, 2022

November 17, 2022