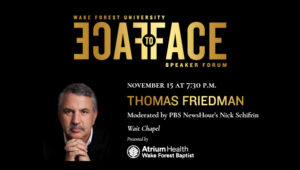 Internationally renowned author, reporter and columnist Thomas Friedman will join the Face to Face Speaker Forum for an evening of conversation with PBS NewsHour's Nick Schifrin on Tuesday, Nov. 15 at 7:30 p.m. in Wait Chapel.
The conversation will center on the political, environmental and social issues shaping the world.
Friedman is the recipient of three Pulitzer Prizes – two for international reporting from the Middle East and a third for his columns written about 9/11. He is the author of seven New York Times bestsellers, among them From Beirut to Jerusalem and The World Is Flat. He has been the Times's Foreign Affairs columnist since 1995.
Schifrin is the foreign affairs and defense correspondent for PBS NewsHour, based in Washington, D.C. He leads NewsHour's foreign reporting and has created week-long, in-depth series for NewsHour. The series "Inside Putin's Russia" won a 2018 Peabody Award and the National Press Club's Edwin M. Hood Award for Diplomatic Correspondence. He received the American Academy of Diplomacy's Arthur Ross Media Award for Distinguished Reporting and Analysis of Foreign Affairs in 2020.
The Face to Face Speaker Forum offers single event tickets to faculty, staff, and students for free on a first come, first served basis (subject to availability). Faculty and staff will be able to pick up their tickets at Will Call outside of Wait Chapel before the event. Additional single tickets are available for purchase here. Use promo code FACE20 for a 20% discount on your ticket purchase.
This Face to Face Speaker Forum with Thomas Friedman is presented by Atrium Health Wake Forest Baptist.
Recent Posts
November 22, 2022

November 18, 2022

November 17, 2022