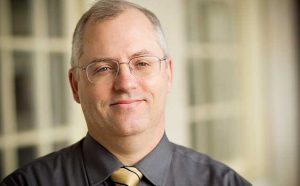 A message from Provost Michele Gillespie
Brad Jones, who has served as Dean of the Graduate School of Arts and Sciences for more than a decade, has announced plans to step down June 30, 2023.
During Dr. Jones' tenure, the Graduate School has launched dynamic new programs and strengthened traditional master's and doctoral programs. Under his leadership, the Graduate School has experienced steady growth and diversified its student body. The School currently offers 30 master and doctoral degree programs.
Dr. Jones developed graduate programs in Bioethics, Documentary Film, Interpreting and Translation Studies, and Sustainability. The highly regarded Counseling Program added an online master's degree in counseling that has helped the University meet the growing need to train mental health professionals. He also created opportunities for community engagement through new programming. He has been the recipient of multiple Graduate Research Fellowship Grants grants, most recently from the National Science and Hearst Foundations.
A professor of chemistry since 1989, Dr. Jones served as interim dean in 2011 and then was named to two five-year terms as dean.  He exemplifies the teacher-scholar ideal. While leading the Graduate School, he has continued to serve as a dissertation director and to teach chemistry courses, including his popular first-year seminar on Sherlock Holmes and the Science of Deduction for undergraduate students. He publishes peer-reviewed articles each year in his field of research.
He will take a research leave for the 2023-24 academic year and then return to teaching in the chemistry department. Later this week we will announce the next steps for identifying future leadership of the Graduate School of Arts and Sciences.
Dr. Jones is the longest-serving member of the Dean's Council. I could not be more grateful for the wisdom, creativity, and commitment to academic excellence he has brought to the role of Dean.
Recent Posts
March 25, 2023

March 23, 2023

March 23, 2023